They Drew as They Pleased: The Hidden Art of Disney's Golden Age (Disney x Chronicle Books) (Hardcover)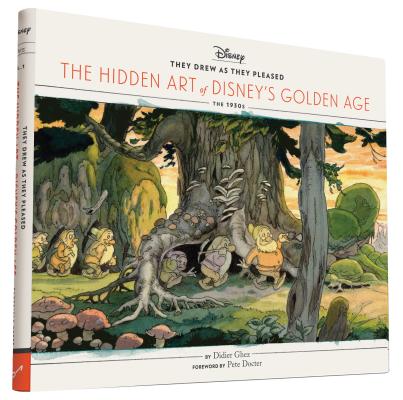 $50.00

Usually arrives at our store within 4-7 days
Other Books in Series
This is book number 1 in the Disney x Chronicle Books series.
Description
---
As the Walt Disney Studio entered its first decade and embarked on some of the most ambitious animated films of the time, Disney hired a group of "concept artists" whose sole mission was to explore ideas and inspire their fellow animators. They Drew as They Pleased showcases four of these early pioneers and features artwork developed by them for the Disney shorts from the 1930s, including many unproduced projects, as well as for Snow White and the Seven Dwarfs, Pinocchio, and some early work for later features such as Alice in Wonderland and Peter Pan. Introducing new biographical material about the artists and including largely unpublished artwork from the depths of the Walt Disney Archives and the Disney Animation Research Library, this volume offers a window into the most inspiring work created by the best Disney artists during the studio's early golden age.

They Drew as They Pleased is the first in what promises to be a revealing and fascinating series of books about Disney's largely unexamined concept artists, with six volumes spanning the decades between the 1930s and 1990s.

Copyright ©2015 Disney Enterprises, Inc. All rights reserved.
About the Author
---
Didier Ghez is the author of Disney's Grand Tour and Disneyland Paris: From Sketch to Reality, and the editor of the Walt's People book series. He lives in Florida.

Pete Docter is vice president of creative at Pixar Animation Studios and the writer and director of Disney•Pixar's Inside Out. He also directed the Academy Award®–winning feature films Monsters, Inc. and Up. He lives in Piedmont, California.
Praise For…
---
"If you're looking for in-depth Disney history, you honestly can't do better than Didier Ghez...If you have a plethora of Disney animation history books on your shelf, you probably have several images that are burnt into your mind, because you see them over and over. Not here. Thanks to Disney's ARL (i.e., Animation Research Library), you're going to be seeing art that the public has never, EVER seen before...'They Drew As They Pleased -- The Hidden Art of Disney's Golden Age: The 1930s' is a treasure, and a gift to future generations of art students."
-Jim Hill Media

"If you're looking for in-depth Disney history, you honestly can't do better than Didier Ghez...If you have a plethora of Disney animation history books on your shelf, you probably have several images that are burnt into your mind, because you see them over and over. Not here. Thanks to Disney's ARL (i.e., Animation Research Library), you're going to be seeing art that the public has never, EVER seen before...'They Drew As They Pleased -- The Hidden Art of Disney's Golden Age: The 1930s' is a treasure, and a gift to future generations of art students."
-Jim Hill Media

"If you're looking for in-depth Disney history, you honestly can't do better than Didier Ghez...If you have a plethora of Disney animation history books on your shelf, you probably have several images that are burnt into your mind, because you see them over and over. Not here. Thanks to Disney's ARL (i.e., Animation Research Library), you're going to be seeing art that the public has never, EVER seen before...'They Drew As They Pleased -- The Hidden Art of Disney's Golden Age: The 1930s' is a treasure, and a gift to future generations of art students."
-Jim Hill Media

"Now, indefatigable Disney chronicler and aficionado Didier Ghez has dug even deeper for the first in a series of books, focusing on four key figures: Hurter, Ferdinand Horvath, Gustaf Tenggren, and Bianca Majolie. Their sketches, doodles, drawings, and paintings are inventive, whimsical, and sometimes breathtaking. Ghez sets their work into context with his informative essays. This is not the kind of book to be swallowed whole but savored."
-Leonard Maltin

"Now, indefatigable Disney chronicler and aficionado Didier Ghez has dug even deeper for the first in a series of books, focusing on four key figures: Hurter, Ferdinand Horvath, Gustaf Tenggren, and Bianca Majolie. Their sketches, doodles, drawings, and paintings are inventive, whimsical, and sometimes breathtaking. Ghez sets their work into context with his informative essays. This is not the kind of book to be swallowed whole but savored."
-Leonard Maltin

"Now, indefatigable Disney chronicler and aficionado Didier Ghez has dug even deeper for the first in a series of books, focusing on four key figures: Hurter, Ferdinand Horvath, Gustaf Tenggren, and Bianca Majolie. Their sketches, doodles, drawings, and paintings are inventive, whimsical, and sometimes breathtaking. Ghez sets their work into context with his informative essays. This is not the kind of book to be swallowed whole but savored."
-Leonard Maltin

"It's an important examination of Disney's key concept artists of the 1930s. The fact that it's also lavishly illustrated, well-written (loaded with new information) and entertaining is icing on the cake...buy this book."
- Jerry Beck, Cartoon Research

"It's an important examination of Disney's key concept artists of the 1930s. The fact that it's also lavishly illustrated, well-written (loaded with new information) and entertaining is icing on the cake...buy this book."
- Jerry Beck, Cartoon Research

"It's an important examination of Disney's key concept artists of the 1930s. The fact that it's also lavishly illustrated, well-written (loaded with new information) and entertaining is icing on the cake...buy this book."
- Jerry Beck, Cartoon Research

Holiday Gift Guide Pick

Holiday Gift Guide Pick

Holiday Gift Guide Pick

"Disney devotees will admire 'They Drew as They Pleased: The Hidden Art of Disney's Golden Age: The 1930s' by Didier Ghez (Chronicle Books, 208 pages, $40). This is the first in a planned series of six works exploring the revered studio's output. The edition is loaded with scenes from classics such as 'Snow White and the Seven Dwarfs,' 'Pinocchio,' plus lots of previously unpublished artwork."
- San Jose Mercury News

"Disney devotees will admire 'They Drew as They Pleased: The Hidden Art of Disney's Golden Age: The 1930s' by Didier Ghez (Chronicle Books, 208 pages, $40). This is the first in a planned series of six works exploring the revered studio's output. The edition is loaded with scenes from classics such as 'Snow White and the Seven Dwarfs,' 'Pinocchio,' plus lots of previously unpublished artwork."
- San Jose Mercury News

"Disney devotees will admire 'They Drew as They Pleased: The Hidden Art of Disney's Golden Age: The 1930s' by Didier Ghez (Chronicle Books, 208 pages, $40). This is the first in a planned series of six works exploring the revered studio's output. The edition is loaded with scenes from classics such as 'Snow White and the Seven Dwarfs,' 'Pinocchio,' plus lots of previously unpublished artwork."
- San Jose Mercury News

"This is a gem for film buffs and Disney enthusiasts looking for an absorbing title to fill out their collections."
-Library Journal

"This is a gem for film buffs and Disney enthusiasts looking for an absorbing title to fill out their collections."
-Library Journal

"This is a gem for film buffs and Disney enthusiasts looking for an absorbing title to fill out their collections."
-Library Journal

Holiday Gift Guide Pick "Feast your eyes on the fantastic lost art of Disney's 1930s concept artists."
-Entertainment Weekly

Holiday Gift Guide Pick "Feast your eyes on the fantastic lost art of Disney's 1930s concept artists."
-Entertainment Weekly

Holiday Gift Guide Pick "Feast your eyes on the fantastic lost art of Disney's 1930s concept artists."
-Entertainment Weekly

"Didier Ghez has brought to light numerous discoveries, from early Jiminy Cricket designs by Albert Hurter to documents by Gustaf Tenggren for The Sorcerer's Apprentice With material culled from personal letters, journals and anecdotes from friends, family and coworkers, this unprecedented portrait of these artists comes to life, revealing how they helped shape the Walt Disney Studio, and how they continue to inspire us to this day."
-Animated Views

"Didier Ghez has brought to light numerous discoveries, from early Jiminy Cricket designs by Albert Hurter to documents by Gustaf Tenggren for The Sorcerer's Apprentice With material culled from personal letters, journals and anecdotes from friends, family and coworkers, this unprecedented portrait of these artists comes to life, revealing how they helped shape the Walt Disney Studio, and how they continue to inspire us to this day."
-Animated Views

"Didier Ghez has brought to light numerous discoveries, from early Jiminy Cricket designs by Albert Hurter to documents by Gustaf Tenggren for The Sorcerer's Apprentice With material culled from personal letters, journals and anecdotes from friends, family and coworkers, this unprecedented portrait of these artists comes to life, revealing how they helped shape the Walt Disney Studio, and how they continue to inspire us to this day."
-Animated Views

"Early Walt Disney Studio animation has a special, glowing magic familiar to anyone who has seen classics such as 'Snow White and the Seven Dwarfs' or 'Pinocchio.' Credit the Disney Story 'Department, and the artists 'including a woman, Bianca Majolie" whose stories and artwork are collected in a lovely coffee-table book..."
-Newsday

"Early Walt Disney Studio animation has a special, glowing magic familiar to anyone who has seen classics such as 'Snow White and the Seven Dwarfs' or 'Pinocchio.' Credit the Disney Story 'Department, and the artists 'including a woman, Bianca Majolie" whose stories and artwork are collected in a lovely coffee-table book..."
-Newsday

"Early Walt Disney Studio animation has a special, glowing magic familiar to anyone who has seen classics such as 'Snow White and the Seven Dwarfs' or 'Pinocchio.' Credit the Disney Story 'Department, and the artists 'including a woman, Bianca Majolie" whose stories and artwork are collected in a lovely coffee-table book..."
-Newsday

"Didier Ghez is a brilliant illuminator of the often unexplored corners of the art and artists behind the Disney films, and he's brought that the unique and wonderful skill to They Drew As They Pleased: The Hidden Art Of Disney's Golden Age, which explores the works of a quartet of Disney's first concept artists as the company's horizons broadened rapidly in the 1930s."
-A Site Called Fred

"Didier Ghez is a brilliant illuminator of the often unexplored corners of the art and artists behind the Disney films, and he's brought that the unique and wonderful skill to They Drew As They Pleased: The Hidden Art Of Disney's Golden Age, which explores the works of a quartet of Disney's first concept artists as the company's horizons broadened rapidly in the 1930s."
-A Site Called Fred

"Didier Ghez is a brilliant illuminator of the often unexplored corners of the art and artists behind the Disney films, and he's brought that the unique and wonderful skill to They Drew As They Pleased: The Hidden Art Of Disney's Golden Age, which explores the works of a quartet of Disney's first concept artists as the company's horizons broadened rapidly in the 1930s."
-A Site Called Fred