They Drew As they Pleased: The Hidden Art of Disney's Musical Years (The 1940s - Part One) (Disney x Chronicle Books) (Hardcover)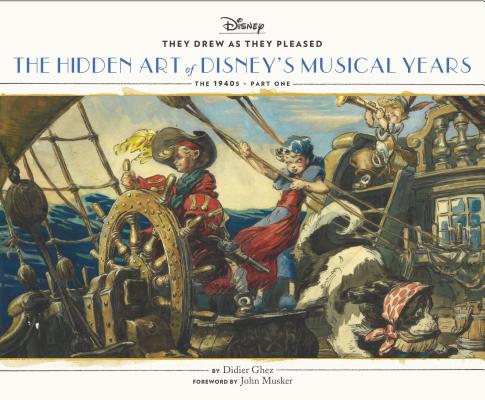 Other Books in Series
This is book number 2 in the Disney x Chronicle Books series.
Description
---
The 1940s ushered in an era of musical experimentation and innovation at the Walt Disney Studios. Artists from all over the world flocked to California to be part of the magic, and their groundbreaking styles influenced such classics as Dumbo and Bambi as well as shaped the masterpieces that followed such as Alice in Wonderland and Peter Pan. For this volume, author Didier Ghez has unearthed hundreds of enchanting images—from early sketches to polished concepts for iconic features—by five exceptional artists who shaped the style of the Studio's animation during this period of unbridled creativity. With evocative descriptions and excerpts from the artists' journals and autobiographies, this magnificent collection offers a rare look at the visionaries who breathed life into some of the most beloved films of our time.

Copyright ©2016 Disney Enterprises, Inc. All Rights Reserved
About the Author
---
Didier Ghez is the author of Disney's Grand Tour, Disneyland Paris, and They Drew as They Pleased: The Hidden Art of Disney's Golden Age: The 1930s. He lives in Florida.

John Musker is a 38-year veteran of Walt Disney feature animation. Among the films he co-wrote and directed with Ron Clements are The Little Mermaid, Aladdin, Hercules, Treasure Planet, The Princess and the Frog, and the upcoming Moana. He lives in Los Angeles.
Praise For…
---
"Like an animation junkie's idea of heaven, the book is a peek into the Disney archives that gives and gives and gives. It's an instruction manual, history book and catalog that can entertain for hours. If you're looking for the story behind the story, this is it."
-Sioux City Journal

"The second volume of what I hope will be a continuing series, They Drew As They Pleased: The Hidden Art Of Disney's Musical Years uncovers and presents dozens of pieces produced during the development process of Disney's musical features in the 1940s by the studio's concept artists. Truly beautiful and a marvelous insight into the creative process of a landmark period."
-A Site Called Fred

"These books truly show some of the "hidden" artwork from Disney. It's amazing to see these lush illustrations and paintings, some of which are far from what you imagine as "Disney animation." The stories of the artists are fascinating and, in some cases, heartbreaking. If you want to dive a little deeper into the history of Disney, these books are a great place to start."
-Geek Dad

"The artists who provided the inspiration for some of the Walt Disney Studios' classic animated films are celebrated in They Drew As The Pleased: The Hidden Art of Disney's Musical Years by Disney researcher Didier Gherz (Chronicle), the second volume in a series of fascinating looks at the sketches and conceptual art that inspired the animation for iconic features-in this case, including Fantasia, Bambi, Alice in Wonderland, Lady and the Tramp and Peter Pan."
-Parade

"We are certainly living in a golden age of Disney animation research - and the books by Didier Ghez never fail to amaze. Don't miss this one."
-Cartoon Research

"Like an animation junkie's idea of heaven, the book is a peek into the Disney archives that gives and gives and gives. It's an instruction manual, history book and catalog that can entertain for hours. If you're looking for the story behind the story, this is it."
-Sioux City Journal

"The artists who provided the inspiration for some of the Walt Disney Studios' classic animated films are celebrated in They Drew As The Pleased: The Hidden Art of Disney's Musical Years by Disney researcher Didier Gherz (Chronicle), the second volume in a series of fascinating looks at the sketches and conceptual art that inspired the animation for iconic features-in this case, including Fantasia, Bambi, Alice in Wonderland, Lady and the Tramp and Peter Pan."
-Parade

"These books will inspire in equal measure, both the Disney history buff and the animation enthusiast that merely buys these books for the art. Either way, there's no shortage of inspiration within."
-On Animation podcast

"They Drew As they Pleased: The Hidden Art of Disney's Musical Years (The 1940s - Part One) is a fantastic second addition to the They Drew As they Pleased series. The book introduces us to five new Disney artists that were very vital to the creation of some of the most beloved Disney classics. The book gives us a great look into their lives as well as the amazing art that they created over the years and it's great to see the distinctive differences in the art from the first volume. This book is just like its predecessor one you cant miss out on and I'm truly excited to see what the future volumes will have to offer."
-Rotoscopers

"We are certainly living in a golden age of Disney animation research - and the books by Didier Ghez never fail to amaze. Don't miss this one."
-Cartoon Research

"These books will inspire in equal measure, both the Disney history buff and the animation enthusiast that merely buys these books for the art. Either way, there's no shortage of inspiration within."
-On Animation podcast

"No one has done more to document Walt Disney's golden age and the artists who worked for him than Didier Ghez...Here he turns his attention to five of Walt's concept artists, gifted people whose drawings, sketches, and paintings inspired the story men and directors responsible for Disney's musical features of the 1940s, from Fantasia and its proposed sequels to Make Mine Music. Their names-Walt Scott, Kay Nielsen, Sylvia Holland, Retta Scott, and David Hall-may be unfamiliar even to staunch Disneyphiles (except for the well-respected Nielsen), but through interviews, private correspondence and studio memoranda Ghez paints a sympathetic portrait of each artist and defines his or her importance to the studio. The beautifully reproduced artwork would be enough to justify this volume, but learning about their careers, artistic aspirations and frustrations gives us a real sense of them as individuals."
--Leonard Maltin

"The second volume of what I hope will be a continuing series, They Drew As They Pleased: The Hidden Art Of Disney's Musical Years uncovers and presents dozens of pieces produced during the development process of Disney's musical features in the 1940s by the studio's concept artists. Truly beautiful and a marvelous insight into the creative process of a landmark period."
-A Site Called Fred

"They Drew As they Pleased: The Hidden Art of Disney's Musical Years (The 1940s - Part One) is a fantastic second addition to the They Drew As they Pleased series. The book introduces us to five new Disney artists that were very vital to the creation of some of the most beloved Disney classics. The book gives us a great look into their lives as well as the amazing art that they created over the years and it's great to see the distinctive differences in the art from the first volume. This book is just like its predecessor one you cant miss out on and I'm truly excited to see what the future volumes will have to offer."
-Rotoscopers

"No one has done more to document Walt Disney's golden age and the artists who worked for him than Didier Ghez...Here he turns his attention to five of Walt's concept artists, gifted people whose drawings, sketches, and paintings inspired the story men and directors responsible for Disney's musical features of the 1940s, from Fantasia and its proposed sequels to Make Mine Music. Their names-Walt Scott, Kay Nielsen, Sylvia Holland, Retta Scott, and David Hall-may be unfamiliar even to staunch Disneyphiles (except for the well-respected Nielsen), but through interviews, private correspondence and studio memoranda Ghez paints a sympathetic portrait of each artist and defines his or her importance to the studio. The beautifully reproduced artwork would be enough to justify this volume, but learning about their careers, artistic aspirations and frustrations gives us a real sense of them as individuals."
--Leonard Maltin

"These books truly show some of the "hidden" artwork from Disney. It's amazing to see these lush illustrations and paintings, some of which are far from what you imagine as "Disney animation." The stories of the artists are fascinating and, in some cases, heartbreaking. If you want to dive a little deeper into the history of Disney, these books are a great place to start."
-Geek Dad