There are no products in your shopping cart.
Please call 626-449-5320 to check the availability of this item.
Jim Marshall: Show Me the Picture: Images and Stories from a Photography Legend (Jim Marshall Photography Book, Music History Photo Book) (Hardcover)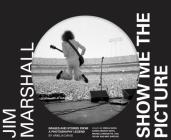 $55.00
Usually Ships in 1-5 Days
Description
---
Jim Marshall: Show Me the Picture is a collection of work by photographer Jim Marshall, who created iconic images of rock 'n' roll stars, jazz greats, and civil rights leaders.

This career-spanning volume showcases hundreds of photographs evoking the sights and sounds of the 1960s and 1970s.

Marshall photographed noteworthy musicians like Bob Dylan, Jimi Hendrix, John Coltrane, and Janis Joplin, as well as figures throughout history—from civil rights leaders to ordinary folks in New York, San Francisco, and the American South.

• Marked-up proof sheets offer insight into Marshall's process
• In-depth essays from his contemporaries tell a compelling story about this larger-than-life man
• Marshall's legacy is the subject of a documentary feature film Show Me the Picture: The Story of Jim Marshall

From intimate portraits and heady crowd scenes to haunting street shots, Marshall's work had the power to look into the soul of an individual and capture the mood of an entire generation.

This gorgeous collection is a fitting tribute to a true legend and a must-have for devoted Jim Marshall fans and newcomers alike.

• The perfect gift for rock 'n' roll and jazz lovers, photography buffs, music history devotees, and fans of Jim Marshall
• A deluxe, beautiful volume to display on the coffee table
• Great for fans of The Haight: Love, Rock, and Revolution by Joel Selvin, Jim Marshall: Jazz Festival by Amelia Davis and Tony Nourmand, and The Road to Woodstock by Michael Lang
About the Author
---
Amelia Davis is the owner and manager of Jim Marshall Photography LLC. She lives in San Francisco.
Praise For…
---
"In this new book, readers can tag along with legendary rock 'n' roll photographer Jim Marshall to some of the most incredible concerts of the '60s and '70s. Along with his documentation of enigmatic greats like The Rolling Stones, Aretha Franklin, Bob Dylan, and Ray Charles, Marshall also captured participants in the various social movements and subcultures that changed the world, and readers get an intimate, unfiltered view of these influential political and cultural developments." —Paste Magazine

"Magnificent.… This gorgeous volume serves as a vivid time capsule from a pivotal period in American pop culture." —Publishers Weekly, starred review

"You've surely seen some of Jim Marshall's iconic rock photographs, but the sheer breadth of his work is pure 'wow!' " —Zoom Street

"Marshall was everywhere—Greenwich Village, Monterey Pop, the Haight, Woodstock—shooting a body of work that was raw, relaxed, intimate, and (pardon the overused word) iconic." —Mother Jones

"In Jim Marshall: Show Me the Picture, we get a full portrait of a master documentary photographer; a man who captured stunning images at the early stages of the Civil Rights Movement and took that same sense of perspective from the jazz festival and nightclub scenes of the early 1960s through that decade and into the next." —PopMatters

"Jim Marshall: Show Me the Picture is a beautifully bound and slip-cased volume of almost 300 glossy pages showcasing hundreds of Marshall's images, marked-up contact sheets, short essays, and a brief story of his colorful and tragic life. Marshall respected his subjects—gaining him unparalleled insight and access—whom he captured, almost impossibly, without cropping or added lighting. The power leaps from Marshall's photographs like Peter Frampton in flight." —Shelf Awareness, starred review

"Few photographers have had a life and career as historic as Jim Marshall. His pictures not only capture some of the most influential artists of the 20th century but also established a new level of intimacy in the relationship between entertainers and the photojournalists documenting them." —Buzzfeed

"Exquisite, vibey, joyful, and sometimes tear-inducing photos.… While many fans know of Jim Marshall from his brilliant photos of '60s and '70s rockers, he was far more than a rock photog, and this career-spanning anthology should surprise and delight readers with its expansive portraiture of jazz icons, political and civil rights events, coal miners, denizens of Times Square, and other subjects." —Guardians of Guitar

"Amelia Davis, Marshall's longtime assistant and editor of Jim Marshall: Show Me the Picture, has put together a stunning tribute to Marshall's vision of life during the twentieth century. She pairs Marshall's photographs with incredible essays that take us along for the ride, giving us a powerful portrait of the exquisite genius that is Marshall's singular legacy." —Feature Shoot

"A masterful compendium of the photographer's life.… Jim Marshall's photographs have become a visual diary of the rebellious spirit of rock and roll." —Huck Magazine

"A few books about Jim Marshall's work have come out since his death nearly a decade ago, but the newest, Show Me the Picture, is a revelation.… Significantly, the book includes Marshall's street photography and civil rights-era documentary work from the early '60s—often riveting pictures that show the 27-year-old Marshall's pinpoint eye for detail as well as his range as a shooter.… Show Me the Picture is not just a sparkling look back at the work of a legendary photographer, it's a reminder of the kind of relationship a photographer can have with a subject, and of the magic they can make together." —Blind Magazine

"Show Me the Picture combines penetrating essays on Marshall the artist and Marshall the man by a variety of writers to complement a wealth of compelling Marshall images, some familiar, others resoundingly fresh in their power and humanity." —American History Magazine

"Jim Marshall: Show Me the Picture shares his best work from a legendary career that spanned five decades." —CNN.com