There are no products in your shopping cart.
Please call 626-449-5320 to check the availability of this item.
The Sea Journal: Seafarers' Sketchbooks (Illustrated Book of Historical Sailor Explorers, Nautical Travel Gift) (Hardcover)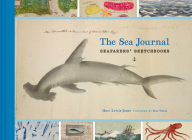 Description
---
In this remarkable collection of illustrated private journals, log books, letters, and diaries, The Sea Journal follows the voyages of intrepid sailors.

This captivating book contains firsthand records by a great range of travelers of their encounters with strange creatures and new lands—full of dangers and delights, pleasures and perils.

The Sea Journal includes historical figures like Antonio Pigafetta, an Italian who sailed with Magellan; Tupia, a Tahitian who joined Captain Cook's first voyage; buccaneer Bartholomew Sharp, who menaced the Spanish Main; and Jeanne Baret, the first woman to circumnavigate the globe.

• With 60+ biographical portraits accompanied by colorful sketches and maps, each story unfolds in an exciting way.
• Explore adventures from the frozen polar wastes to the South Seas paradise islands.
• Readers meet a fascinating cast of real characters: officers and crew, cooks and whalers, surgeons and artists, explorers and adventurers.

A collection of rare and exquisite firsthand records of ocean voyages around the world and in different ages, The Sea Journal provides a fascinating insight into exploration and adventure at sea.

The records—sourced from libraries, archives, and private collections, as well as family heirlooms, and assembled together for the first time—evoke the thrill of discovery and the spirit of the sea.

• A gorgeous compilation of sketches by travelers and explorers of many nationalities and eras
• A wonderful gift for history buffs, map enthusiasts, artists, journal-keepers, coastal tourists and residents, people interested in the sea and exploration, and anyone with an adventurer's spirit
• Great for those who enjoyed Nature Anatomy: The Curious Parts and Pieces of the Natural World by Julia Rothman; Amazing Rare Things: The Art of Natural History in the Age of Discovery by David Attenborough, Susan Owens, Martin Clayton, and Rea Alexandratos; and Breverton's Nautical Curiosities: A Book Of The Sea by Terry Breverton
About the Author
---
Huw Lewis-Jones, PhD, is a historian of exploration who travels regularly in the Arctic and Antarctica as a polar guide. He was formerly curator at the Scott Polar Research Institute, Cambridge, and the National Maritime Museum, London. He is the author of several books on the ocean and exploration, including Explorers' Sketchbooks. He lives by the sea in Cornwall, England.

Captain Don Walsh USN (RET), PhD, is an oceanographer, explorer, and former submarine captain. In 2001, he was elected to the United States National Academy of Engineering. He is currently the honorary president of the Explorers Club.
Praise For…
---
"[a] fascinating chronicle of discovery."
-
The New York Times
"Readers will delight in Lewis-Jones's remarkable collection of artistic works by an eclectic group of voyagers.This is an admirable labor of love that involved tenacious sleuthing and methodical research." -
Sea History
magazine
"...presents
illustrated journals, log books, letters and diaries from more than
60 travelers, hailing from various centuries, who plied the waves from
the South Seas to the Arctic and Antarctic waters. These first-hand
accounts come from people of assorted stations-officers, whalers,
surgeons, cooks and artists-all who endeavored to capture in pictures
the vistas, creatures and adventures they encountered." - Artists Magazine