The 36-Hour Day: A Family Guide to Caring for People Who Have Alzheimer Disease, Related Dementias, and Memory Loss (Mass Market)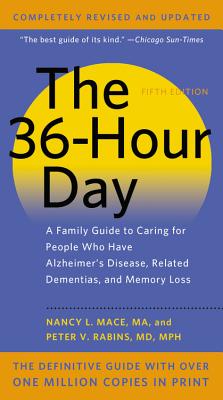 $10.00
Email or call for price
Description
---
The most trusted guide for caring for persons with Alzheimer's disease, memory loss, and dementia disorders-now revised and updated with practical and legal advice and compassionate guidance for families and caregivers.
When someone in your family suffers from Alzheimer's disease or other related memory loss diseases, both you and your loved one face immense challenges. For over thirty years, this book has been the trusted bible for families affected by dementia disorders. Now completely revised and updated, this guide features the latest information on the causes of dementia, managing the early stages of dementia, the prevention of dementia, and finding appropriate living arrangements for the person who has dementia when home care is no longer an option. You'll learn:
The basic facts about dementia
How to deal with problems arising in daily care-meals, exercise, personal hygiene, and safety
How to cope with an impaired person's false ideas, suspicion, anger, and other mood problems
How to get outside help from support groups, friends, and agencies
Financial and legal issues you must address.
Comprehensive and compassionate,
The 36-Hour Day
is the only guide you need to help your family through this difficult time.
About the Author
---
Nancy L. Mace, MA, now retired, was a consultant to and a member of the board of directors of the Alzheimer Association and an assistant in psychiatry as coordinator of the T. Rowe and Eleanor Price Teaching Service of the Department of Psychiatry and Behavioral Sciences at the Johns Hopkins University School of Medicine.

Peter V. Rabins, MD, MPH, is the Richman Family Professor of Alzheimer Disease and Related Disorders in the Department of Psychiatry and Behavioral Science of the Johns Hopkins University School of Medicine. He has joint appointments at the Bloomberg School of Public Health in the Departments of Mental Health and Health Policy and Management. Rabins is also the director of the Division of Geriatric Psychiatry and Neuropsychiatry, the T. Rowe and Eleanor Price Teaching Service, and the Jane K. Schapiro Family-Centered Dementia Care Program.
Praise For…
---
"Both a guide and a legend." --Chicago Tribune

"The best guide of its kind." --Chicago Sun-Times

"An excellent book for familias who are caring for persons with dementia... A book that physicians can confidently recommend to the families of their patients." --Journal of the American Medical Association

"Excellent guidance and clear information of a kind that the family needs... The authors offer realistic advice that sometimes it is better to concede the patient's frailties than try to do something about them, and that a compassionate sense of humor often helps." --New York Times

"An admirably realistic guide to caring for people with Alzheimer's." --New York Review of Books

"An excellent, practical manual for families and professionals involved in the care of persons with progressive illnesses... The book is specific and thought-provoking, and it will be helpful to anyone even remotely involved with an 'impaired' person... Highly recommended, especially for public and nursing libraries." --Library Journal