Earth in Human Hands: Shaping Our Planet's Future (Hardcover)
×
Warning message
Mean Menu style requires
jQuery
library version 1.7 or higher, but you have opted to provide your own library. Please ensure you have the proper version of jQuery included. (note: this is not an error)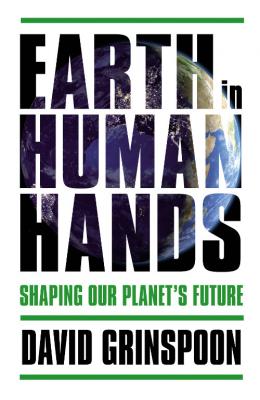 $28.00
Email or call for price.
Description
---
NASA Astrobiologist and renowned scientist Dr. David Grinspoon brings readers an optimistic message about humanity's future in the face of climate change.
For the first time in Earth's history, our planet is experiencing a confluence of rapidly accelerating changes prompted by one species: humans. Climate change is only the most visible of the modifications we've made--up until this point, inadvertently--to the planet. And our current behavior threatens not only our own future but that of countless other creatures. By comparing Earth's story to those of other planets, astrobiologist David Grinspoon shows what a strange and novel development it is for a species to evolve to build machines, and ultimately, global societies with world-shaping influence.
Without minimizing the challenges of the next century, Grinspoon suggests that our present moment is not only one of peril, but also great potential, especially when viewed from a 10,000-year perspective. Our species has surmounted the threat of extinction before, thanks to our innate ingenuity and ability to adapt, and there's every reason to believe we can do so again.
Our challenge now is to awaken to our role as a force of planetary change, and to grow into this task. We must become graceful planetary engineers, conscious shapers of our environment and caretakers of Earth's biosphere. This is a perspective that begs us to ask not just what future do we want to avoid, but what do we seek to build? What kind of world do we want? Are humans the worst thing or the best thing to ever happen to our planet? Today we stand at a pivotal juncture, and the answer will depend on the choices we make.
About the Author
---
David Grinspoon is an astrobiologist, award-winning science communicator, and prize-winning author. In 2013 he was appointed the inaugural Chair of Astrobiology at the Library of Congress. He is a frequent advisor to NASA on space exploration strategy, and is on the team for the Curiosity Mars Rover. Grinspoon's writing has appeared in the New York Times, Slate, Scientific American, Seed, Boston Globe, and the Los Angeles Times.
Praise For…
---
"In his wonderful writing style, Dr. Grinspoon spells it out: A single species is inducing more profound changes to our planet than any other organism in geologic history. It's us. If you have family and friends here on Earth, read this book. The Earth is in our hands."
—
Bill Nye "The Science Guy", New York Times bestselling author of Unstoppable: Harnessing Science to Change the World
"
Earth in Human Hands
is a page-turning masterpiece of speculative nonfiction that will keep new and veteran science aficionados spellbound for hours at a time. It is quite simply the kind of book that can change a young reader's life, or inspire parents and teachers to do the same...Grinspoon ties together a dozen disparate themes pulled from a host of sub-fields seamlessly, making the book a delightful, flowing feast of science and commentary...Given Earth in the title, one might expect the book to revolve solely around our planet, the immediate concerns of humanity, or the growing anxiety voiced by environmentalists and a few scientists over our growing impact on this world. Grinspoon delivers all that with seeming ease. But he takes an epic, cosmic course to do so, one successfully charted by only a handful of visionaries before him. It's a journey that ranges from the planets Venus and Mars, where he deftly reviews the critical contributions NASA and other agencies have added to our understanding of our home by studying these alien worlds, to the farthest reaches of space and time revealed by modern astronomy....The only disappointment was when the last page was turned, and I found myself wishing there was more.If Carl Sagan were alive today, and had available to him all the science done since he left us, this is the book he would write....
Earth in Human Hands
is
Cosmos
for the 21st century, retooled for a new wave of readers, and hopped up on the best science modern research has to offer. ...Your copy of this masterpiece is destined to become a familiar friend, proudly dog-eared and creased with age, after being read and reread time after time, and year after year."—
Daily Kos
"In flavorful prose, [Grinspoon] dives deep into the history of life on
Earth (and beyond) and muses on ways that geoengineering, interplanetary
colonization or contact with galactic civilizations could define this
human-dominated epoch just as much as climate change, overpopulation and
resource scarcity...What comes next? This hybrid of a meditative
memoir, a scientific primer and a call to arms presents possible
answers. "
—
Scientific American
"Grinspoon's writing is clear, informal and funny...like a pub conversation with a well-read, quick mind."
—
Nature
"
Earth in Human Hands
is a remarkable synthesis of natural history, planetary science, extinction histories, Earth's climate and the human effect on the world...If we do it right, the 21st century won't be the peak of human achievement, but rather our initial foray into a brilliant, uncertain but full-of-potential future."—
Forbes
"Rarely is a science book profoundly informative, highly entertaining, and surprisingly filled with interesting tidbits as a memoir. Such is the case, however, from the new book
Earth in Human Hands
...This is a book that any thinking person will have been glad to read. One could hardly ask for more."—
Astronomy Magazine
"With an erudite yet appealingly informal style that showcases his nimble mastery of this science, Grinspoon takes you on a deep-time tour...In our hyper-technical world, we need science communicators like Grinspoon (and Bill Nye and Neil deGrasse Tyson) who can translate their expertise into accessible explanations and interesting stories. All complex topics have interesting stories; it takes a particular talent to unlock them....This is one of the great strengths of "Earth in Human Hands": Grinspoon's ability to describe and explain momentous Earth and space events and discoveries, and then connect to their cultural and social influence; science as part of everyday life and our cultural history, not separate from it."
—
NPR Boston
"David Grinspoon has done it again: cracked open our universe with a scientific inquiry that is as inspiring and engaging as it is profound. Where others see inevitable catastrophe, Grinspoon sees historic opportunity. Grinspoon is a gifted storyteller and his narrative is the rare confluence of authoritative and thought-provoking science and rollicking fun. Earth in Human Hands is a must read for anyone interested in evolution, planetary science, the crisis of the environment, and human survival. Destined to be a classic."
—
Peter Heller, New York Times bestselling author of The Dog Stars and The Whale Warriors
"David Grinspoon's books are always high-spirited, insightful, elegantly-written, and full of fascinations, but EARTH IN HUMAN HANDS is especially so, because he focuses on our home planet and exciting/dangerous new age, criss-crossing the globe and traveling deep into the unknown reaches of space, where other lifeforms may be facing their own planetary challenges. I'm sure readers will love voyaging through the cosmos with him again, as I do."
—
Diane Ackerman, New York Times bestselling author of The Human Age: The World Shaped by Us and The Zookeeper's Wife: A War Story
"A beautiful and detailed overview of the ways we must change our thinking if we want to truly understand the transformation in our midst."
—
Adam Frank, NPR.com
"David Grinspoon is an entertaining and insightful writer, and he takes us through a delightful intellectual romp across the universe, through our solar system, witnessing Earth's evolution over geologic time. He gives us an astronomer's-eye view of our current global environmental crisis, helping us see our predicament through the lens of time and space, which gives us a far better perspective-- especially on issues like climate change. I strongly recommend this book to folks who are scientifically curious, and to those who want to hear a different take on our current environmental challenges. You won't be disappointed."
—
Jonathan Foley, Director, California Academy of Sciences
"In a moving, personal journey, Grinspoon takes the reader from molten, planetary origins, past current crises like climate change, toward a destiny that our children may yet forge, standing on our shoulders."
—
David Brin, New York Times bestselling author of Earth and Existence
"Now that climate scientists have established beyond a reasonable doubt that man-made greenhouse gases play a major role in global warming, it's becoming transparently obvious that we humans are effectively behind the wheel, driving earth toward its ultimate fate, for good or ill. In the face of this stark reality, one question becomes equally clear: How do we as a species steer the planet in the right direction to save ourselves and our fellow creatures? An astrobiologist by training, as well as a frequent advisor to NASA on space exploration, Grinspoon is well-placed to provide a unique set of answers to this inquiry. In a work that's less an orderly guidebook than a series of thoughtful and fascinating discussions, Grinspoon uses his knowledge of planetary ecosystems and geological change to speculate on humankind's potential earthly influence over thousands of years, pointing out that Homo sapiens has faced extinction before.
Although Grinspoon acknowledges the daunting challenges ahead, his message is ultimately an optimistic one, arguing that man's acute self-awareness and technological creativity will ultimately win out."—
Booklist
"An optimistic and informative take on the future of Earth and humankind."
—
Publishers Weekly
"In his low-key, conversational language, Grinspoon asks provocative questions about modern science's unyielding rigidities; gives an informed, dispassionate consideration of the UFO phenomenon; and suggests that NASA might be a tad too preoccupied with Mars. Definitive proof that life on this planet is intelligent and funny."
—
Entertainment Weekly on Lonely Planets
"Grinspoon tackles E.T. in a style that will satisfy science nerds and English majors alike. Drawing on astronomy, biology, and pop culture, the NASA adviser validates the big bang theory, traces the human search for aliens, and suggests that extraterrestrial life, at least on a microbial level, is out there. Read closely: Illustrations such as the Cosmic Evolution chart that puts Hendrix at the peak of complex civilization offer some of the wittiest insights."
—
Wired Magazine on Lonely Planets
"In LONELY PLANETS David Grinspoon provides a masterful synthesis of the history, science, philosophy, and even theological implications of extraterrestrial life....His lively and engaging writing style is well-suited to the broad range of subjects encountered here...an entertaining and thought-provoking book."
—
Science Magazine on Lonely Planets
"With metaphor, analogy and clear, entertaining writing, Grinspoon carries us through eons of Earth history...terrific."
—
San Diego Union-Tribune on Lonely Planets
"In LONELY PLANETS, David Grinspoon brings together what has never before been synthesized: the history, science, culture, and politics of the search for life in the universe. Along the way, you will not escape his practical and often humorous observations of the quest; he is a planetary scientist as well as a dreamer, borne of the space age."
—
Neil deGrasse Tyson on Lonely Planets
"It is generally acknowledged that the bar was set by Carl Sagan in 1973 with the publication of
The Cosmic Connection
. Anathema though it may be to Sagan fans, and believe me, I'm one of you, that bar has now been surpassed by LONELY PLANETS ...Keen scholarship, witty observations, and thought-provoking banter from a working scientist who, like Sagan, can really write."—
San Jose Mercury News on Lonely Planets
"LONELY PLANETS is a Lonely Planet guide to the universe, packed with useful information served up with a wry, amusing twist....He does it all in a breezy, engaging style unlike anything you'll find in most popular science books."
—
Dallas Morning News on Lonely Planets
"Like Sagan, [Grinspoon] brings a joyous, open, even boisterous enthusiasm - "billions and billions!" - to his writing. If you think a survey of "natural philosophical" history regarding the possibility of alien life might be dry, think again. There's something here for a wide audience, from scientists to dreamers to fans of UFOs....It's fascinating as pure information and made positively delightful by Grinspoon's willingness to be playful...LONELY PLANETS is one of the most fun books I've ever read."
—
Boulder Daily Camera on Lonely Planets
"Grinspoon handles the wide variety of material necessary for a coherent narrative with great aplomb...less a popularization than a personable chat on life, the universe and everything."
—
Publishers Weekly on Lonely Planets
"Astronomer and space advocate Grinspoon pulls lots of facts, hypotheses, and beliefs together in this entertaining consideration of the likelihood of encountering extraterrestrial life...Fun to read, Grinspoon comes across like a buddy in a bar, trying out ideas over a beer or few. He deserves a large readership."
—
Booklist on Lonely Planets
"An exuberant, provocative look at the possibility of extraterrestrial life, what it might be like, and what it might mean....Wisecracks, philosophical musings, and personal anecdotes make his text as lively as it is authoritative."
—
Kirkus (Starred Review) on Lonely Planets