Treating Complex Traumatic Stress Disorders (Adults): Scientific Foundations and Therapeutic Models (Paperback)
×
Warning message
Mean Menu style requires
jQuery
library version 1.7 or higher, but you have opted to provide your own library. Please ensure you have the proper version of jQuery included. (note: this is not an error)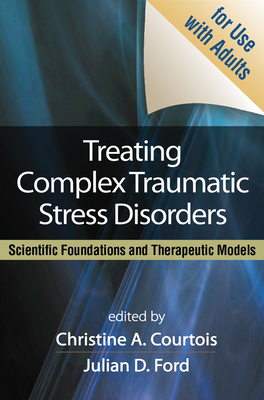 This item is not available.
Description
---
This book has been replaced by Treating Complex Traumatic Stress Disorders in Adults, Second Edition, ISBN 978-1-4625-4362-5.
 
About the Author
---
.
Praise For…
---
.
"A valuable addition to the libraries of both novice and experienced clinicians who treat patients with disorders as varied as reactive attachment disorder, borderline personality disorder, depression, dissociative disorders, and post-traumatic stress disorder....An unparalleled contribution to the existing literature on assessment and intervention with survivors of complex trauma. There are few existing compilations that have collected such a wide variety of treatment approaches from such prominent authors, and it is probable that this is the most comprehensive and current review to date. While multiple evidence-based treatment strategies are given attention in this book, it is detailed enough so that the reader is able to make an informed decision about whether to pursue an approach. In addition, several chapters describe essential understanding required for working with any survivor of complex trauma regardless of the particular intervention style....One of the book's highlights is its thoughtful and comprehensive summary of assessment tools for the clinician treating survivors of complex traumatic stress....Courtois and Ford have assembled an impressive volume of empirically-informed assessment and treatment approaches that 'honor and support the resilience of trauma survivors as they carry on with their lives and enrich the lives of their families and communities.'"
— Trauma Psychology Newsletter (APA Division 56)
"This book is likely to appeal to clinicians who are eager to learn more about the area of complex traumatic stress and novel approaches to treating associated problems. The text is well-written and organized, making it easy to follow."
— Journal of Contemporary Psychotherapy
"Will surely become a classic textbook on complex traumatic stress. This book is appropriate for students, clinicians, and academics alike. Because the concept of complex trauma is still evolving, this text can educate and inform students in training as well as seasoned clinicians....The authors of the book are leaders in the field of trauma and they artfully illustrate the nuances of the disorder as well as subsequent treatment through rich case examples....In our current mental health climate, there exists a psychiatric debate about formally establishing Complex PTSD as a disorder. In such a climate this book documents the current knowledge and evidence supporting the disorder and will surely help to shift the paradigm of how complex trauma is understood, assessed for, and ultimately healed from."
— Clinical Social Work Journal
"Editors Courtois and Ford unite to provide a thorough, stimulating, and current text on treating a very challenging population of individuals with complex trauma....This is an important and highly relevant book, addressing a complex problem, organizing what empirical support there is for the many approaches which are currently utilized and expanded for this population. Even if you do not work with traumatized individuals, there is much to learn from this book. It can be therapeutically profitable. Well-written, it has an impressive list of contributors, and Ford has a hand in many of the chapters. This book is highly recommended and well-worth its asking price."
— Child and Family Behavior Therapy
"Presents a well-researched, comprehensive source for clinical expertise in the area of complex traumatic stress disorder—specifically PTSD."
— EABP Newsletter
"The book has a compelling philosophical unity about it - essentially humanistic, and broadly cognitive and behavioural. Among all this solid evidence-based theory and practice, I also felt uplifted by a sense of optimism....I heartily recommend this book to any psychological therapist or medical practitioner who is called upon to help those whose life experiences have resulted in intransigent mental health issues that may thus far have been diagnosed as a developmental disorder, personality disorder (particularly borderline), or post-traumatic stress disorder."
— Healthcare, Counselling, and Psychotherapy Journal
"This book is welcome as it pulls together theoretical and clinical approaches to understanding and helping people with difficulties following multiple and prolonged traumatic experiences....This book addresses important issues and was stimulating both academically and clinically....The book will be useful to most therapists, but especially those who regularly work with people whose main problems are associated with abusive or neglectful experiences in early childhood."
— Journal of Behavioural and Cognitive Psychotherapy
"A valuable addition to understanding and treating complex traumatic  stress disorders, this book will enhance the knowledge and therapeutic  toolbox of any practitioner working with clients who have had complex  psychological traumas....I really appreciated the insights offered by  the contributors and the wealth of experience and knowledge assembled by the editors."
— Addiction Today
"The first comprehensive overview on assessment and treatment of complex traumatic stress disorders. Both authors are experts in the field and have worked as clinicians with trauma survivors facing the clinical reality of complex manifestations of trauma....All the chapters are extremely well written and very informative. Each chapter makes a significant contribution to this important, fast-developing field....This important text is a clear contribution to the position that complex traumatic stress disorders can be conceptualized as a separate clinical entity....This book provides a complete overview over the current thinking regarding complex trauma disorders and should be required reading for all researchers and clinicians working with this population."
— MIWatch.org