Journey (DK Definitive Visual Histories) (Hardcover)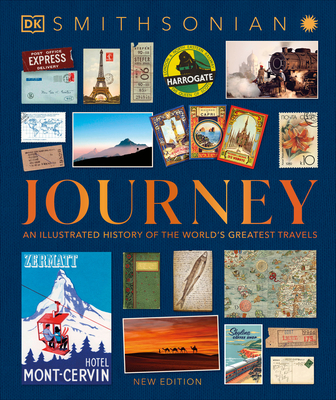 Description
---
Follow the voyages of the Vikings, pursue plundering pirates, trace the Hippie Trail, or set off on a flight to the Moon. A thrilling expedition awaits you on every page.

Journeys have arisen from all manner of impulse, from migration and the search for food to pilgrimages, trade, scientific curiosity, or simply the quest for adventure.

Packed with stories of human movement and endeavor, Journey lets you experience the excitement and romance of travel, covering everything from quests across the Silk Road and the adventures of Marco Polo to explorations in space and underwater. Discover ancient maps, biographies of conquerors, explorers and travelers, stories of scientific discovery and technological innovation, stunning works of art, and catalogs of travel-related memorabilia.

This truly worldwide account is a glorious celebration of human journeys and will make an impressive gift for any lover of travel and history.
About the Author
---
Michael Collins is a native of Ireland and studied theology at the University College Dublin. He has taught in a number of universities, including the American University of Rome; John Cabot University; and Duquesne University, Rome Campus, and he currently serves in St. Mary's Church in Dublin. Michael Collins has authored many books, including DK's The Vatican and Pope Francis: A Photographic Story of the People's Pope, and has been featured on CBS News's 60 Minutes.