The Star Wars Book: Expand your knowledge of a galaxy far, far away (Hardcover)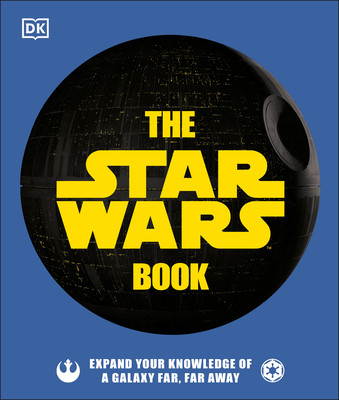 Description
---
This is the Star Wars book you're looking for.

If you want to comprehend the epic and intricate Star Wars saga, this is the book for you. It is a unique and insightful examination of this beloved franchise, including Star Wars: The Mandalorian, Star Wars: The Clone Wars, and Star Wars: The Rise of Skywalker.

Written by Star Wars experts, including fan-favorite Pablo Hidalgo, this book is packed with stunning film and TV stills, illuminating infographics and curated essays that reveal the mysteries of the Star Wars galaxy. From legendary heroes like Luke Skywalker and Leia Organa to fascinating species like the Wookiees and Tusken Raiders, this book explores the central characters, technology, governments, and events that have shaped the epic saga.

The book is divided into key subject areas - the galaxy, science and technology, the Force, the Skywalkers, galactic governments and their dissidents, and galactic denizens. Whether you are a devoted Star Wars fan or a casual reader curious to learn more, The Star Wars Book is an invaluable roadmap to this galaxy, far far away....

© & ™ 2020 Lucasfilm Ltd
About the Author
---
Pablo Hidalgo has been writing professionally about Star Wars since 1995. In 2000, he joined Lucasfilm to become a full-time Star Wars authority, first as a StarWars.com writer, and now as a creative executive in story development. He has written or co-written several authoritative Star Wars reference books, including DK's best-selling Star Wars: The Force Awakens The Visual Dictionary, Star Wars: Rogue One The Ultimate Visual Guide, and Star Wars: The Last Jedi Visual Dictionary. He lives in San Francisco.

Cole Horton is an author, historian, and games industry professional. He is the author of multiple Star Wars books, including Ultimate Star Wars: New Edition, Star Wars Maker Lab, Star Wars Absolutely Everything You Need to Know, and Star Wars The Visual Encyclopedia. Cole graduated with a degree in History from Indiana University and has contributed as a historian to StarWars.com, Marvel AR, and Marvel.com. By day, he works on Star Wars games at EA and lives in San Francisco, CA with his wife.

Dan Zehr is the Host and Brand Director of the Star Wars podcast Coffee With Kenobi. He is a Feature Blog Contributor for StarWars.com, as well as a writer for IGN, and is a prominent expert in Star Wars fandom. Dan is also a prolific high school educator, who teaches Literature and Composition, and has a Master's Degree in Teaching and Learning. His work combining Star Wars and education garnered him a role in the Target Rogue One Star Wars commercial. He resides in Illinois with his wife and three boys.