The Moscow Kremlin: Russia's Fortified Heart (Fortress) (Paperback)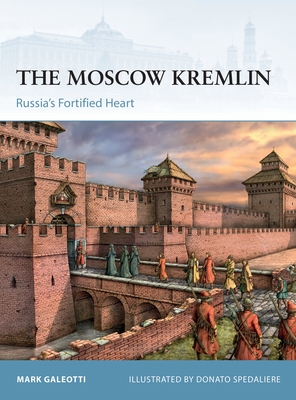 Description
---
A detailed study of the tumultuous history of the Moscow Kremlin, a metaphor for Russia, a symbol for its government and an enduring icon of the country.

A fortified complex covering 70 acres at the heart of Moscow, behind walls up to 18m high and watched over by 20 towers, the Kremlin houses everything from Russia's seat of political power to glittering churches. This is a fortress that has evolved over time, from the original wooden guard tower built in the 11th century to the current stone and brick complex, over the years having been built, burnt, besieged, and rebuilt.

Starting with the initial building of a wooden watch tower on the banks of the Moskva river in the 11th century, this book follows the Kremlin's tumultuous history through rises and falls and various iterations to today. In the process, it tells a story of Russia, and also unveils a range of mysteries around the fortress, from the 14th-century underground tunnels built to permit spies to enter and leave it covertly through to today's invisible defenses such as it GPS spoofing field (switch on your phone inside the walls and it may well tell you you're at Vnukovo airport, 30km away) and drone jammers.
About the Author
---
Donato Spedaliere was born in Switzerland and moved to Italy. He served as a paratrooper in the
Italian Army and studied at Belle Arti in Florence. As a 2D artist, he is a professional illustrator for
publishers and museums; as a 3D artist he has worked on complex projects with archaeologists,
architects and military institutions. He can be contacted at: 3threedimart@gmail.com.
Praise For…
---
"This well-illustrated book with its photographs of reconstructions to show how may have looked 700 years ago , is a remarkable piece of history telling." - Laurent Tirone, Gun Mart and Milita Mart Magazine