Never Greater Slaughter: Brunanburh and the Birth of England (Hardcover)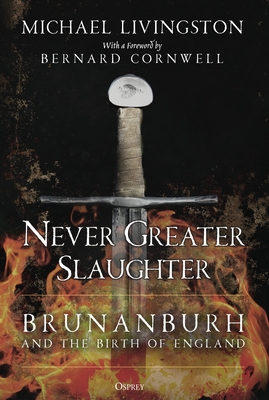 Description
---
'No one has done more than Michael Livingston to revive memories of the battle, and you could not hope for a better guide.' BERNARD CORNWELL Bestselling author of The Last Kingdom series

Late in AD 937, four armies met in a place called Brunanburh. On one side stood the shield-wall of the expanding kingdom of the Anglo-Saxons. On the other side stood a remarkable alliance of rival kings – at least two from across the sea – who'd come together to destroy them once and for all. The stakes were no less than the survival of the dream that would become England. The armies were massive. The violence, when it began, was enough to shock a violent age. Brunanburh may not today have the fame of Hastings, Crécy or Agincourt, but those later battles, fought for England, would not exist were it not for the blood spilled this day. Generations later it was still called, quite simply, the 'great battle'. But for centuries, its location has been lost.

Today, an extraordinary effort, uniting enthusiasts, historians, archaeologists, linguists, and other researchers – amateurs and professionals, experienced and inexperienced alike – may well have found the site of the long-lost battle of Brunanburh, over a thousand years after its bloodied fields witnessed history. This groundbreaking new book tells the story of this remarkable discovery and delves into why and how the battle happened. Most importantly, though, it is about the men who fought and died at Brunanburh, and how much this forgotten struggle can tell us about who we are and how we relate to our past.
About the Author
---
Dr. Michael Livingston teaches the military and cultural history of the Middle Ages at The Citadel, the Military College of South Carolina. He recently co-authored the textbook reader Medieval Warfare, and future works include books on the battles of Hastings and Shrewsbury. These add to previous books The Battle of Crécy: A Casebook, winner of the 2017 Distinguished Book Award from the Society for Military History, and Never Greater Slaughter: Brunanburh and the Birth of England (Osprey, 2021).

Bernard Cornwell, who has been called "one of the most accomplished storytellers now writing" (Kirkus Reviews) is the author of numerous international bestsellers, including the Sharpe series. He was born in Britain and now lives with his wife in Cape Cod.
Praise For…
---
"Written with both the critical gaze of a military historian and the dramatic verve of a historical novelist, this book brings to vibrant and bloody life the momentous battle of Brunanburh in AD 937." —Robert Woosnam-Savage, FSA, Curator of Armour and Edged Weapons, The Royal Armouries

"Never Greater Slaughter raises the bar for what narrative history can do… This book will wow you as it educates you on the fascinating story of one of the most important battles in British history." —Myke Cole, Author of 'Legion versus Phalanx'

"Only the most adept of military historians, of writers, can combine combat with context and not lose their readers' interests. Michael Livingston is one of those. Never Greater Slaughter tells the whole story of the birth of England, from Alfred the Great to Athelstan and Brunanburh. No one tells the history better." —Kelly DeVries, Professor of History, Loyola University Maryland