p53: The Gene that Cracked the Cancer Code (Hardcover)
×
Warning message
Mean Menu style requires
jQuery
library version 1.7 or higher, but you have opted to provide your own library. Please ensure you have the proper version of jQuery included. (note: this is not an error)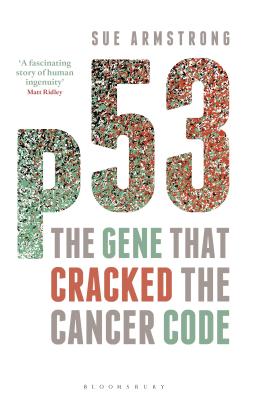 Description
---
The story of the search for p53--the most important gene in medicine.
All of us have lurking in our DNA a most remarkable gene: it is known simply as p53 and its job is to protect us from cancer. p53: The Gene that Cracked the Cancer Code tells the story of the discovery of the gene and of medical science's mission to unravel its mysteries and get to the heart of what happens in our cells when they turn cancerous. When all is well, this gene constantly scans our cells to ensure that when they grow and divide as part of the routine maintenance of our bodies, they do so without mishap. If a cell makes a mistake in copying its DNA during the process of division, p53 stops it in its tracks, sending in the repair team before allowing the cell to carry on dividing. Cancer cannot develop unless p53 itself is damaged or handicapped by some other fault in the system. Not surprisingly, p53 is the most studied single gene in history.
Through the personal accounts of key researchers, the book reveals the excitement of the hunt for new cures--the hype, the enthusiasm, the lost opportunities, the blind alleys and the thrilling breakthroughs. As the long-anticipated revolution in cancer treatment tailored to each individual patient's symptoms starts to take off at last, p53 is at the cutting edge. This is a timely tale of scientific discovery and advances in our understanding of a disease that still affects more than one in three of us at some point in our lives.
About the Author
---
Sue Armstrong is a science writer and foreign correspondent who has worked for a variety of media organizations, including New Scientist and BBC World Service. Since the 1980s, she has undertaken regular assignments for the World Health Organization (WHO) and UNAIDS, writing about women's health issues and the AIDS pandemic, among many other topics. The author of A Matter of Life and Death: Inside the Hidden World of the Pathologist, Armstrong lives in Edinburgh, Scotland.
Praise For…
---
"Ms. Armstrong's book comes alive in the sections where she explores cancer's human toll . . . She also captures the excitement of researchers as they come upon eureka moments." —The Wall Street Journal
"She covers every aspect of cancer development, giving us a sense of how this evasive illness persists, even in the face of modern medicine . . . As Armstrong paints a picture of hope in the book, she apologizes for the slow progress that medical science makes. With her optimistic outlook, we can sleep better at night knowing that someone's at the helm." —San Francisco Book Review
"As in the best travel writing, it's not the destination that's important here, but the journey. This is not only a story about the gene on chromosome 17, nor only about the nature of cancer, but also about how science works." —The Boston Globe
"A succinct, accessible study of humanity's genetic bulwark against cancer." —Nature
"A brilliant narrative that captures the essence of the scientific challenges faced by researchers in this pursuit and the progress that has been made in our understanding of p53." —Science Magazine
"Armstrong's book is genuinely engrossing on many levels, and the story is very well told. It has considerable depth, yet sufficient clarity to be able to reach a wide audience." —Cell Magazine
"Armstrong adroitly untangles the complex story of this impressive gene." —Booklist