Perimenopause Power: Navigating your hormones on the journey to menopause (Paperback)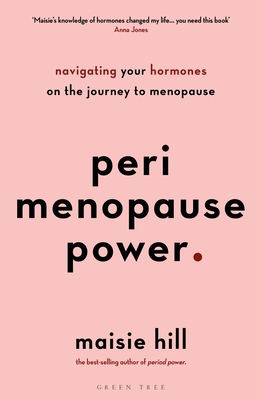 Description
---
From the author of Period Power comes the empowering guide to menopause that all women need, packed with advice on dealing with symptoms and understanding the most effective treatment options.

Three-quarters of women reaching menopause experience symptoms such as mood changes, insomnia, hot flushes, and night sweats, but there is little in the way of evidence-based information out there to help them presented in a way that's engaging and helpful.

Perimenopause Power is here to change that: finally, this is a book for women experiencing perimenopause and menopause who want to understand what's going on with their bodies and how to deal with troublesome symptoms, but also gain valuable insights into making menopause a positive and powerful experience--yes, it's possible!

Perimenopause Power is a handbook that exudes calm positivity and makes sense of complex physiological processes in an easy-to-understand manner, helping women to understand what the hell's going on with them and provide instruction on what can be done to improve their experience of the dreaded "change."

Maisie Hill, the celebrated author of Period Power, delves into the science of menopause in an accessible way and provides a whole slew of tips to see women through the challenge of wildly fluctuating hormones. There is a glaring gap in the market for a well-researched, evidence-based book on menopause that empowers women to address their issues and have conversations with loved ones and their doctors.
About the Author
---
Maisie Hill is a highly qualified and sought-after expert in menstrual health and is the author of Period Power, a book lauded as 'life-changing' and 'essential' by readers. For over 15 years Maisie has worked with clients to support them through all aspects of their hormonal journey – from menstruation to menopause and beyond. She hosts the Period Power podcast and is the founder of The Flow Collective, an online community that helps members to harness their hormones and get their cycle working for them.

Depending on where she is in her cycle, when she's not working Maisie is either having an adventure with her four-year-old, or enjoying some alone time along the beaches of Margate.
Praise For…
---
"An informative must-read for any woman – whatever their age" - VOGUE online

"Will make you gasp at how ill-informed you are about your own body" - Sunday Telegraph, Stella

"Excellent" - Bryony Gordon, Daily Telegraph

"An empowering manual to guide women through how to make all stages of the menopause a more positive experience" - Woman&Home online

"This is such an empowering guide to the perimenopause, which I hope can help many women in those early stages" - Prima magazine

"This empowering guide helps you navigate your hormones during this life stage, which can start in your thirties" - Women's Health

"A real goodie, a curve ball book which I highly recommend for women hitting their 40s – brilliantly written" -Thomasina Miers

"An essential handbook to understanding our bodies" - Women's Running

"A hormone bible… informative, clear, funny and reassuring, full of life-enhancing, reliable information." - Simple Things