Deliciously Ella The Plant-Based Cookbook: 100 Simple Vegan Recipes to Make Every Day Delicious (Hardcover)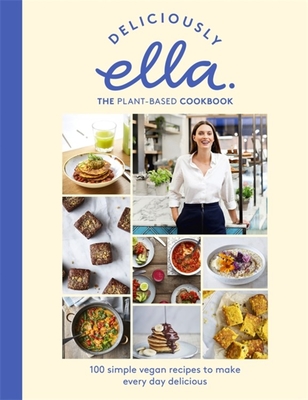 Description
---
100 all-new plant-based recipes by bestselling author Deliciously Ella.
"Deliciously magnificent!" --Kris Carr, author of the NYT-bestselling Crazy Sexy Diet

Ella's latest book features the most popular, tried-and-tested recipes from her supper clubs, pop-ups, and deli to show how delicious and abundant plant-based cooking can be. These simple vegan recipes cover everything from colorful salads to veggie burgers, falafel, creamy dips and sides, hearty one-pot curries and stews, speedy breakfasts, weekend brunches, muffins, cakes, and brownies. They're the recipes that Ella's thousands of customers have been asking for since the deli first launched in 2015, and each recipe has a beautiful photograph to show you how it should look.
In addition to the more than 100 brand-new plant-based recipes, for the first time we are treated to a personal insight into Ella's journey--how she grew her blog, which she began writing to help get herself well while suffering from illness, into a wellness brand--and all that she has learned along the way, as well as what drives the Deliciously Ella philosophy and her team's passion for creating delicious, healthy food.
With diary excerpts that document the incredible journey that Deliciously Ella has taken and more than 100 irresistible recipes for every day using simple, nourishing ingredients, this stunning book will be a must-have for fans and food-lovers alike, and it's also perfect for anyone looking to experiment with vegan cooking for the first time.
About the Author
---
Ella Mills Woodward, founder of Deliciously Ella, is an award-winning cookbook author and entrepreneur, and a champion of eating well. She started off with her popular blog, deliciouslyella.com, which has had more than 110 million hits in the last three years. Her first book, Deliciously Ella, was published in January 2015 and has been the best-selling debut cookbook ever in the UK and a New York Times bestseller. She has since released a further three best-selling books, created a #1 app, and opened a deli in London with her husband, as well as launching a food product line across the UK.
Praise For…
---
"Corn fritters with smoky baked beans and avocado mash, a creamy mushroom soup, and Sri Lankan curry bring hearty fare to the table, while lighter options include spiced new potatoes with minty yogurt dressing, a simple pesto salad, and harissa roasted eggplant. For something sweet at any time of day, Mills presents an almond Victoria cake (made with ground almonds, buckwheat flour, and coconut yogurt), fudgy brownies, and buckwheat pancakes with hot chocolate sauce. Mills's recipes are simple and accessible...Deliciously Ella fans will appreciate this volume."
—Publishers Weekly

Praise for Deliciously Ella
"Ella Woodward is deliciously magnificent! Her recipes are out of this world, and her wellness philosophy is life-changing. I adore this scrumptious cookbook and am so grateful for Ella's inspiring work."—Kris Carr, author of the New York Times best-selling Crazy Sexy Diet

"We've all gone crazy for Deliciously Ella . . . She has become the biggest thing in healthy eating."—The Times

"The reality of her story and the reasons for writing the blog resonate with her audience . . . She is just a normal girl who stumbled on a way to help herself recover from serious illness and wants to share her secrets."—Daily Telegraph

"Ella's Instagram is packed full of vibrant-colored dishes with heaps of fresh vegetables, as well as lots of great ideas for smoothies and healthy breakfasts."—Red Magazine

"Ella's debut cookbook is a must-read. With a feast of over 100 brand-new
recipes, from energizing breakfasts to sweet treats . . . your new and
natural food journey starts here. As well as working with whole foods
and ingredients that your body will love, Ella tells the story of why
she started eating this way. One of a kind."—Heat Magazine