Reform Judaism for the Rest of Us: Faith Versus Political Activism (Paperback)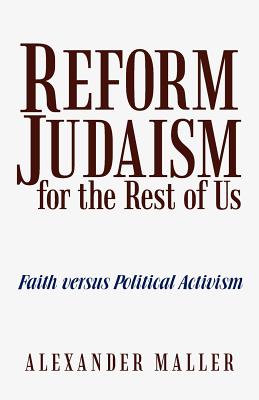 $20.95

Usually arrives at our store within 4-7 days
Description
---
Reform Judaism has been tested by the spiritual torments and ideological upheavals of the last two centuries. Now, Reform Judaism for the Rest of Us brings into discussion key tenets and opinions that shape current thinking within the faith and introduces ideas for its future development. Author Alexander Maller believes that the core message of Reform Judaism, a modern faith inspired by the Jewish heritage and the Jewish and American Enlightenment, is entering a new phase in its history.
Free from the defunct extremist ideologies of the last centuries, American Reform Judaism can expand its reach into the new millennium if it strengthens its grassroots appeal to be of, by, and for the Reform congregants. It must also have a strong Jewish divine faith orientation, be open-minded to the realities of modern living, bear a deep love of Zion, and uphold a strong defense of the Constitution.
The arguments brought forth in this study stem from the author's position as a lay congregant. They also arise from the fact that he is a participant in and an observer of the continuous dialogue between rank-and-file congregants and clergy, as well as among congregations and various denominations of faith. Reform Judaism for the Rest of Us encourages congregants to adopt a sustainable, modern, deity-based orientation inspired by Jewish heritage and the American spirit.