Monstrous Things: Essays on Ghosts, Vampires, and Things That Go Bump in the Night (Paperback)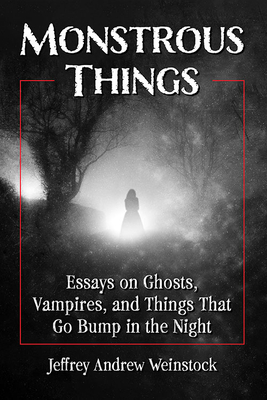 This item is not available.
Description
---
An indispensable resource for students and researchers of paranormal myth and media, this book explores the undead and unholy in literature, film, television, and popular culture. Following an introduction to frightful manifestations in media, sections address ghosts, vampires, and monsters individually, and each section includes a broad consideration of the ghost, vampire or monster in American culture. The section dedicated to ghosts examines the spectral turn of popular culture and the ghost's relation to justice and mourning, with particular attention to Toni Morrison and Herman Melville. In the vampires section, the author considers the undead bloodsucker's relationship to anti-Semitism, suicide, and cinema. The third section discusses monsters in relation to topics such as global pandemics, terrorism, mass shootings, stranger danger, and social otherness, with attention to a range of popular culture texts including the films IT and It Follows.
About the Author
---
Jeffrey Andrew Weinstock is a professor of English at Central Michigan University and an associate book review editor with the Los Angeles Review of Books. He has published 28 books and more than 100 essays and book chapters on horror, fantasy, science fiction, and American literature and culture. Visit him at JeffreyAndrewWeinstock.com.