meXicana Fashions: Politics, Self-Adornment, and Identity Construction (Paperback)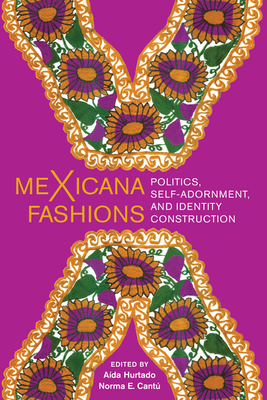 Description
---
2020 Second Place, Best Nonfiction Multi Author, International Latino Book Awards
Collecting the perspectives of scholars who reflect on their own relationships to particular garments, analyze the politics of dress, and examine the role of consumerism and entrepreneurialism in the production of creating and selling a style, meXicana Fashions examines and searches for meaning in these visible, performative aspects of identity.
Focusing primarily on Chicanas but also considering trends connected to other Latin American communities, the authors highlight specific constituencies that are defined by region ("Tejana style," "L.A. style"), age group ("homie," "chola"), and social class (marked by haute couture labels such as Carolina Herrera and Oscar de la Renta). The essays acknowledge the complex layers of these styles, which are not mutually exclusive but instead reflect a range of intersections in occupation, origin, personality, sexuality, and fads. Other elements include urban indigenous fashion shows, the shifting quinceañera market, "walking altars" on the Days of the Dead, plus-size clothing, huipiles in the workplace, and dressing in drag. Together, these chapters illuminate the full array of messages woven into a vibrant social fabric.
About the Author
---
Aída Hurtado is a professor and the Luis Leal Endowed Chair in the Department of Chicana and Chicano Studies at the University of California, Santa Barbara. She is the author and editor of numerous books, most recently Beyond Machismo: Intersectional Latino Masculinities.
Norma E. Cantú is the Norine R. and T. Frank Murchison Endowed Professor in Humanities at Trinity University in San Antonio. In addition to pursuing scholarly research in folklore and literary studies, she has published poetry and fiction, including the award-winning Canícula: Snapshots of a Girlhood en la Frontera. Her most recent coedited volume is Entre Guadalupe y Malinche: Tejanas in Literature and Art.
Praise For…
---
One of the greatest strengths of this work is its commitment to combatting a tendency toward essentialism in dress studies, particularly for what typically gets deemed 'ethnic,' 'minority," or 'subcultural' dress, by underscoring the complex, inconsistent, and sometimes contradictory ways we may experience self and how we variously perform those intersectional identities...The chapters of meXicana Fashions demonstrate many thoughtful attempts to interrogate old and invent new terms, categories, and concepts for identification and analysis...For folklorists, dress scholars, and those interested in material culture, media, and gender studies, there is a lot to value here.
— Journal of Folklore Research

[meXicana Fashions's] editors' intentions of initiating discussion, questioning, and exploration of the significance of fashion, self adornment, and the economics of self fashioning are well served by this diversity of current writings by meXicanas and women of Colour searching for social and self identity outside of the hegemonic fashion industry. This book would be an important point of reference within Mexican American studies and particularly in studies of dress and the creation of both personal and social identity. It is a useful source for complexities of dress, adornment, and the constructions and reconstructions of cultural identities.
— Journal of Dress History

This book is a jewel of fashion knowledge and should be a part of every fashion library to learn how clothing can be used for personal identity and more so, a form of respect for society as a whole – a respect through 'fashion for all' and one always evolving within our likes and differences. Change is what makes up the ideal of fashion.
— Fashion, Style & Popular Culture

[meXicana Fashions] presents the academy with an inspirational model for weaving authenticity and authority alongside the rigors of multimedium and multimethodological research. The result is an insightful and innovate book for those interested in fashion theory, cultural theory, identity politics, textile arts, Latinx/Xicana/Indigenous identity, history, art, and literature, as well as pedagogy.
— New Mexico Historical Review

I have been waiting years for this book...The editors are courageous in their refusal of conformity, even at the level of citation styles, and they appear to model for us what academic diversity can look like in print…the book is a delightful and recommended read.
— Chiricú Journal