Quinceañera Style: Social Belonging and Latinx Consumer Identities (Paperback)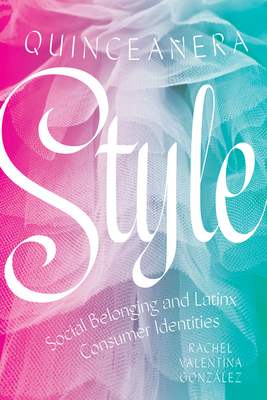 Description
---
Quinceañera celebrations, which recognize a girl's transition to young womanhood at age fifteen, are practiced in Latinx communities throughout the Americas. But in the consumer-driven United States, the ritual has evolved from a largely religious ceremony to an elaborate party where social status takes center stage. Examining the many facets of this contemporary debut experience, Quinceañera Style reports on ethnographic fieldwork in California, Texas, the Midwest, and Mexico City to reveal a complex, compelling story. Along the way, we meet a self-identified transwoman who uses the quinceañera as an intellectual space in her activist performance art. We explore the economic empowerment of women who own barrio boutiques specializing in the quinceañera's many accessories and made-in-China gowns. And, of course, we meet teens themselves, including a vlogger whose quince-planning tips have made her an online sensation.
Disrupting assumptions, such as the belief that Latino communities in the United States can't desire upward mobility without abandoning ethnoracial cultural legacies, Quinceañera Style also underscores the performative nature of class and the process of constructing a self in the public, digital sphere.
About the Author
---
Rachel Valentina González is an assistant professor of Mexican American and Latina/o studies at the University of Texas at Austin. She was a Woodrow Wilson Early Career Fellow and is the coeditor of Race and Cultural Practice in Popular Culture.
Praise For…
---
No prior scholarly approach to [the quinceañera] compares with Rachel Valentina González's brilliant analysis...Quinceañera Style delivers on its promise to bring out an analysis for the twenty-first century of an established yet ever-evolving tradition in the Americas...In more ways than one, Quinceañera Style articulates the underlying reasons why families would spend beyond their means to honor their daughter's transition from childhood to adulthood.
— Journal of Folklore Research

A richly nuanced study.
— New Books in Folklore

Quinceañera Style provides a unique and thorough analysis of quinceañeras unlike any currently available…Based on extensive research and employing different methods, such as representational analysis and ethnography, this text has the potential for vast transnational and interdisciplinary reach...the book makes significant scholarly interventions and successfully offers girlhood, media, gender, folklore, and Latinx studies scholars means of expanding understandings of quinceañeras through an intersectional lens.
— Women's Studies in Communication

Rachel Valentina González has written the anticipated twenty-first-century analysis of quinceañera practices...It is a long-overdue book and one for every scholar of folklore and Latinx cultural studies...Quinceañera Style is a powerful vehicle for understanding the hypervisibility and invisibility of Latinx residents in US public space and how class performance further initiates belonging and exclusion. It is recommended for graduate students and scholars interested in rethinking heritage studies, ethnic studies, American studies, and humanities analyses of consumption, digital realms, and marketing.
— Journal of American Folklore