Razabilly: Transforming Sights, Sounds, and History in the Los Angeles Latina/o Rockabilly Scene (Paperback)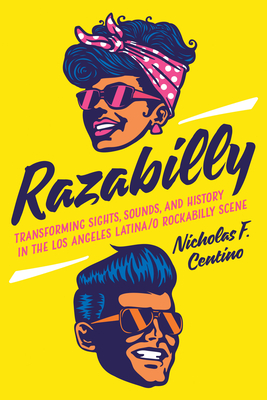 Description
---
Vocals tinged with pain and desperation. The deep thuds of an upright bass. Women with short bangs and men in cuffed jeans. These elements and others are the unmistakable signatures of rockabilly, a musical genre normally associated with white male musicians of the 1950s. But in Los Angeles today, rockabilly's primary producers and consumers are Latinos and Latinas. Why are these "Razabillies" partaking in a visibly "un-Latino" subculture that's thought of as a white person's fixation everywhere else?
As a Los Angeles Rockabilly insider, Nicholas F. Centino is the right person to answer this question. Pairing a decade of participant observation with interviews and historical research, Centino explores the reasons behind a Rockabilly renaissance in 1990s Los Angeles and demonstrates how, as a form of working-class leisure, this scene provides Razabillies with spaces of respite and conviviality within the alienating landscape of the urban metropolis. A nuanced account revealing how and why Los Angeles Latinas/os have turned to and transformed the music and aesthetic style of 1950s rockabilly, Razabilly offers rare insight into this musical subculture, its place in rock and roll history, and its passionate practitioners.
About the Author
---
Nicholas F. Centino is an assistant professor of Chicana/o studies at California State University Channel Islands.
Praise For…
---
Razabilly chronicles the rise of rockabilly among La Raza (a 20th century term for Spanish-speaking communities), offering a fascinating cultural history without reducing the story to any misleadingly simple arguments…[a] nuanced study.
— The Current

Razabilly is a noteworthy study among newer interdisciplinary works on the making and remaking of Los Angeles. It dexterously examines how Chicanas/os and Latinas/os within this music scene experienced, survived, and even thrived during the convoluted 2000s...Most significantly, Centino shows how during a time when the threats to disempower and demonize them increased, Chicanas/os and Latinas/os drew from their collective cultural memories to assert their rights to space and place in Los Angeles—for their own leisure, for a good time, and to seek a better life.
— California History