My Life as a Casino Games Dealer and What Kept Me Sane: Blackjack and Puppy Love (Paperback)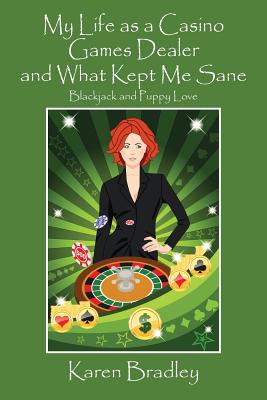 This item is not available.
Description
---
If you've ever wondered what it's like to be a casino dealer, here's the inside scoop Hilarious, irreverent, and downright honest, My Life as a Casino Games Dealer is the story of one woman's career on the other side of the blackjack table. Karen Bradley dishes on what it was like to work in a casino-from the training process, the hours, and the people she met along the way-and her candid style and wit will keep you entertained from start to finish. A good dealer can be like a therapist-non-judgmental and compassionate-and many people shared their most intimate secrets, their most heartbreaking times, their illnesses, and their failures with Karen. She also dealt with those who loved to flaunt their wealth and success...and those who lost everything. But throughout her nearly 20-year career, she learned to accept people for exactly what they were. "At times it felt like we were all just a bunch of misfits. But we were a family, however dysfunctional, and I learned from all of them.