CI/CD Pipeline Using Jenkins Unleashed: Solutions While Setting Up CI/CD Processes (Paperback)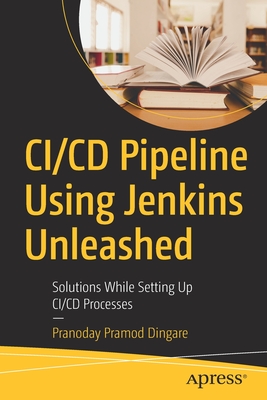 $44.99

Usually arrives at our store within 4-7 days
Description
---
Understand continuous integration (CI), continuous delivery, and continuous deployment (CD) with Jenkins. These processes allow users as well as administrators to catch problems as soon as they get injected into software systems.
This book starts with an introduction to Jenkins and covers its architecture and role in CI/CD. The basics are covered, including installing and configuring Jenkins. Tool configuration and plugins are discussed as well as available security measures such as credentials. You will learn what is meant by Job in Jenkins, its types, sections, and much more. You will look at Java API: projects, jobs, configuration. The concluding chapters take you through creating pipelines, their role in managing web apps, and distributed pipelines. The book also covers unit testing using TestNG as well as end-to-end testing using Selenium Python as a part of building a life cycle and setting up Jenkins on different physical and Docker environments as well as Jenkins integration with cloud environments such as AWS. And you will learn how to create reusable libraries for use in Jenkins Pipeline and control Jenkins servers using Jenkins CLI and REST APIs. The new Jenkins Blue Ocean also is covered.
The book helps you understand CI/CD implementation using Jenkins from scratch in your projects and prepare for end-to-end DevOps practices.
What You Will Learn

Apply Jenkins to create end-to-end pipelines
Integrate Jenkins with AWS, Docker, Git, and many more tools
Use Selenium automation for end-to-end testing
Create distributed pipelines
Who Is This Book For

Developers and test automation professionals who are involved in creating CI/CD pipelines as well as prospective DevOps aspirants who want to make their way ahead as professionals
About the Author
---
Pranoday Pramod Dingare is a certified software testing professional with more than 15 years of experience in software testing, including more than 10 years in automation testing. Pranoday has been leading test automation of mobile applications for the last eight years and has been involved in test automation tools evangelism, R&D, proof of concept, and pilot projects. He has worked as a freelance test automation consultant for various startups and mid-sized IT companies from India and abroad. Pranoday's open-source test automation tools have successfully replaced licensed automation tools, leading to major savings. He is responsible for incorporating DevOps practices into test automation processes of organizations by implementing DevOps tools such as Jenkins, Gitlab, Nexus, Docker, etc. He has recently shifted into full-time DevOps profile and has been working as a Lead DevOps professional since last 1 year. He has implemented various DevOps tools like Dockers, Maven, Kubernetese, Git, Nexus, Azure DevOps, AWS, SonarQube, Jenkins etc. and has been instrumental in automating various applications' build and deployment processes. Pranoday is a tutor who has been involved in software testing and DevOps training for more than nine years, including conducting more than 200 retail and corporate trainings on the latest test automation and DevOps tools. He is a blogger on the latest test automation tools and technologies. Pranoday is passionate about working as a test automation architect, teaching and sharing knowledge about the latest tools and technologies, and helping professionals achieve their dreams.