There are no products in your shopping cart.
Please call 626-449-5320 to check the availability of this item.
Catch My Breath: Walt Disney Animation Studios Artist Showcase (Hardcover)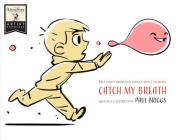 Description
---
Breath . . . it inspires so many silly sayings.Let me catch my breath.You take my breath away.I need a breath of fresh air.And how did little white flowers come to be known as Baby's Breath?Breath is a mystery in more ways than one. And this story is all about breath: losing it, trying to find it, even trying to buy it. In the imagination of Paul Briggs, a boy's breath becomes personified, and it zooms away through farm, forest, and sea, returning only when the boy least expects it.
About the Author
---
Paul Briggs has worked in the animation industry for twenty years and was fortunate to be the head of story on Disney's Frozen and Big Hero 6, both of which received an Academy Award for Best Animated Feature Film. However, he's most proud of his family: his wife, Christin, and their two sons, Luke and Leo. When he's not working, Paul and his family can be found wandering the woods of California, looking for forest zombies to defeat, or engaging in epic dance battles--where they have to stop and catch their breaths.