The Everlasting Rose (The Belles series, Book 2) (Hardcover)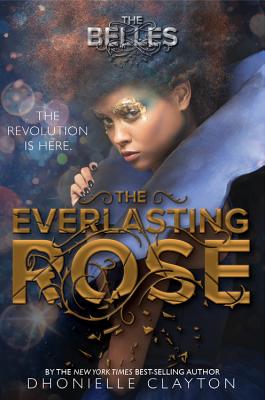 $17.99
Email or call for price
Description
---
In this sequel to the New York Times bestselling novel, The Belles, Camellia Beaureguard, the former favorite Belle, must race against time to find the ailing Princess Charlotte, who has disappeared without a trace.
The evil queen Sophia's imperial forces will stop at nothing to keep Camille, her sister Edel, and her loyal guard, Rémy, from returning Charlotte to the palace and her rightful place as queen. With the help of an underground resistance movement called the Iron Ladies--a society that rejects beauty treatments entirely--and the backing of alternative newspaper the
Spider's Web
, Camille uses her powers, her connections, and her cunning to outwit her greatest nemesis, Sophia, and attempt to restore peace to Orléans. But enemies lurk in the most unexpected places, forcing Camille to decide just how much she's willing to sacrifice to save her people.
"Staggering... A world that is breathtaking and crushing, beautiful and vile, and whimsical and terrifying. [Clayton] poignantly uses a harrowing, fantastical tale to illuminate the very real horrors of unattainable beauty standards and the enslavement of marginalized bodies. As relevant as it is exquisite."
—Booklist, starred review
"Clayton paints a stunning world with chilling characters...that will absorb readers.... This unique story remains a terrific metaphor for beauty and its place in society and culture."
—School Library Journal
About the Author
---
Dhonielle Clayton is the author of New York Times bestseller The Belles and coauthor of the Tiny Pretty Things series. She grew up in the Washington, DC, suburbs on the Maryland side and spent most of her time under her grandmother's table with a stack of books. A former teacher and middle school librarian, Dhonielle is cofounder of CAKE Literary, a creative development company whipping up decidedly diverse books for a wide array of readers, and COO of the nonprofit We Need Diverse Books. She's got a serious travel bug and loves spending time outside the USA but makes her home in New York City, where she can most likely be found hunting for the best slice of pizza. You can also find her online at www.dhonielleclayton.com or follow her @brownbookworm.
Praise For…
---
"Belles fans will be eager to revisit this lavishly imagined, immersive fantasy realm, which Clayton effectively uses to critique several ugly aspects of our own society."—Horn Book Magazine

"Clayton paints a stunning world with chilling characters...that will absorb readers.... This unique story remains a terrific metaphor for beauty and its place in society and culture."—School Library Journal

*"Staggering... A world that is breathtaking and crushing, beautiful and vile, and whimsical and terrifying. [Clayton] poignantly uses a harrowing, fantastical tale to illuminate the very real horrors of unattainable beauty standards and the enslavement of marginalized bodies. As relevant as it is exquisite."—Booklist, starred review

*"The sequel to Clayton's The Belles (2018) freezes blood and steals breath... Narrative craft that can hold the tension of the implicit (and sorely lacking) value of black and brown features as beautiful as it intertwines with incisive commentary on the overall commodification of beauty is no small feat, and Clayton manages thrills of action, magic, romance, and revolution as well. Beauty comes at a price; so too does freedom."—Kirkus Reviews, starred review

AccoladesKirkus: Kirkus Reviews Stars Recommendations, selectionBNTeen: 50 of Our Most Anticipated YA Fantasy Books of 2019, selectionBookRiot: 50 YA Books That Should Be Added to Your TBR ASAP, selection (2019)PopSugar: 23 New Books by Black Women You Should Add to Your Reading List, selection (2019)BNTeen: March's Best New YA fiction, selection (2019)The Booklist Reader: Best New Books: Week of March 5, 2019, selectionPaste: 10 of the Best Young Adult Books of March 2019, selectionStylist: Your guide to 2019's best science fiction and fantasy books by women, selection (2019)Publishers Weekly: Noteworthy Novel Sequels: March 2019, selectionBustle: 19 New Fantasy Novels For Your Spring Reading List, selection (2019)BookBub: The Best Book Series for Teens: An Ultimate List, selection (2019)