Poker Plays You Can Use (Paperback)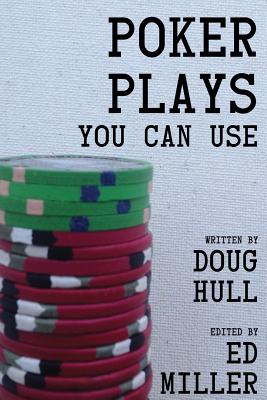 $49.95

Usually arrives at our store within 4-7 days
Description
---
"The book comes in two major sections. First you'll read a series of hand examples. These examples are designed to show you the difference between how a typical no-limit hold'em player thinks and how a professional-level player thinks. Each of these hand examples represents a small improvement you can make in your play.
The second section turns the lessons from the first section into missions you can do on your own. These missions are the equivalent of recipes in a book on nutrition or exercises in a workout book. Doing the missions-doing them as often and using as much your brain on them as possible-are what will make you a better poker player. Do the missions, and you'll see results. Ignore the missions, and you likely won't."
from the Foreword by Ed Miller -Author of Playing the Player, How To Read Hands At No-Limit Hold'em, Small Stakes Hold'em.
About the Author
---
Doug has been found at Foxwoods and Mohegan Sun poker rooms since 2001. When he is not perfecting this craft, he is blacksmithing, woodcarving or developing his permaculture homestead in Massachusetts. He has authored an engineering textbook, co-authored a second and contributed to a third. He has taught countless people to use MATLAB through his blog at MathWorks.com. Reach him at hull@ThreeBarrelBluff.com.