R Cookbook: Proven Recipes for Data Analysis, Statistics, and Graphics (Paperback)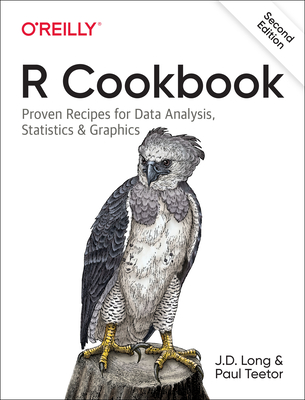 $79.99

Usually arrives at our store within 4-7 days
Description
---
Perform data analysis with R quickly and efficiently with more than 275 practical recipes in this expanded second edition. The R language provides everything you need to do statistical work, but its structure can be difficult to master. These task-oriented recipes make you productive with R immediately. Solutions range from basic tasks to input and output, general statistics, graphics, and linear regression.
Each recipe addresses a specific problem and includes a discussion that explains the solution and provides insight into how it works. If you're a beginner, R Cookbook will help get you started. If you're an intermediate user, this book will jog your memory and expand your horizons. You'll get the job done faster and learn more about R in the process.
Create vectors, handle variables, and perform basic functions
Simplify data input and output
Tackle data structures such as matrices, lists, factors, and data frames
Work with probability, probability distributions, and random variables
Calculate statistics and confidence intervals and perform statistical tests
Create a variety of graphic displays
Build statistical models with linear regressions and analysis of variance (ANOVA)
Explore advanced statistical techniques, such as finding clusters in your data
About the Author
---
J.D. Long is a misplaced southern agricultural economist currently working for Renaissance Re in New York City. J.D. is an avid user of Python, R, AWS and colorful metaphors, and is a frequent presenter at R conferences as well as the founder of the Chicago R User Group. He lives in Jersey City, NJ with his wife, a recovering trial lawyer, and his 11-year-old circuit bending daughter.Paul Teetor is a quantitative developer with Masters degrees in statistics and computer science. He specializes in analytics and software engineering for investment management, securities trading, and risk management. He works with hedge funds, market makers, and portfolio managers in the greater Chicago area.