The First 7 (The Last 8) (Hardcover)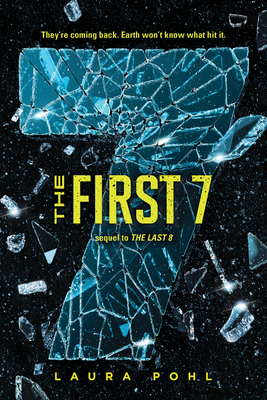 Description
---
"The First 7 is an imaginative, sophisticated science fiction trip for young adults." —Foreword
In this thrilling conclusion to The Last 8 duology, the Last Teenagers on Earth return to their now-hostile planet to respond to a distress signal—but who—or what—is waiting for them there?
Clover Martinez and the Last Teenagers on Earth are busy exploring the galaxy after leaving earth behind...even if they can't help but be a little homesick.
So when their ship receives a distress signal from their former planet, they hope against hope that it means other survivors. But as soon as they arrive, they realize something's deeply wrong: strange crystal formations have popped up everywhere and there's some sort of barrier keeping them from leaving.
Seeking the origin of the formations and the reason for the barrier, the group discovers a colony of survivors hidden in the mountains. But the survivors aren't who they seem...
The First 7 is perfect for readers looking for:
LGBT YA books
gay and lesbian scifi
Latinx teen books
heart-pounding young adult survival stories
relatable, funny, diverse characters
Praise for The Last 8:
"The Walking Dead meets Alien in this expertly plotted debut. Teens will want to follow Clover on her next adventure!" — Zoraida Cordova, author of the Brooklyn Brujas series
"The Last 8 is diverse and immersive science fiction...With its powerful world building and emotional twists, The Last 8 is a beautifully fresh take on the idea of an alien apocalypse." — Foreword Reviews
"A sci-fi romp with ample intergalactic twists to keep readers satisfied." — Kirkus Reviews
"This debut is, at times, both joyful and heartbreaking ... Pohl's characters are tough, funny, and brave as they manage to persevere despite the debilitating weight of grief." — Booklist
About the Author
---
Laura Pohl is a Brazilian writer who lives in São Paulo. She likes writing messages in caps lock, quoting Hamilton, and obsessing about Star Wars. When not taking pictures of her dog, she can be found discussing alien conspiracy theories. She is the author of The Grimrose Girls and The Last 8 duology. Visit her online at onlybylaura.com.
Praise For…
---
"The First 7 is an imaginative, sophisticated science fiction trip for young adults." — Foreword

"A humorous and action-packed story...shocking plot twists and the underlying mystery—peppered with expertly handled discussions of PTSD and suicide—will nonetheless satisfy in this fast-paced but in-depth read." — Booklist

"If you loved novels like Lifelike by Jay Kristoff and Renegades by Marissa Meyer, this one is sure to be a hit for you." — The Nerd Daily