Love, Dad and Me: A Father and Daughter Keepsake Journal (Paperback)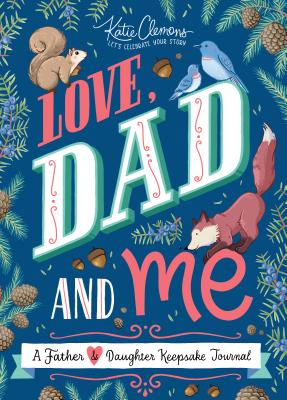 Description
---
The ultimate father-daughter journal for the pair seeking fun, creative ways to connect—the perfect Father's Day gift!
With thoughtful prompts, coloring pages, challenges, and free creative space, Love, Dad and Me is the ultimate activity kit for kids and adults!
This engaging prompt journal is the must-have tool to build father-son relationships. Kids can record memories, swap stories, compare perspectives, and explore common and unique interests with their dads! Interactive lists and letters back and forth invite both father and son to reflect, write, and doodle about their lives to build self-confidence, improve penmanship, and foster connection.
Together you and your child will:
Answer Thought Provoking Journal Prompts: What are your thoughts on kindness? What would we do if we had the whole day together with no work or chores?
Record Memories: One of my favorite traditions is; our favorite thing about the season is...
Compare Perspectives: What were you like when you were my age?
Love, Dad and Me is a very special journal meant to foster a lasting relationship between father and daughter. The perfect journal to grow gratitude and connection, this is the ultimate Father's Day gift for all girl dads.
Let's Celebrate Your Story.
About the Author
---
Katie Clemons is an avid storycatcher, mom, and fifth generation Montanan whose super power is asking questions. Her mission—Let's celebrate your story!—began in elementary school when Katie craved a consistent, fun way to capture and write her stories. Today, she's a No. 1 bestselling author who's shared her story on HGTV's "You Live in What?," given a TEDxTalk, created a storycatching community, and received numerous awards and press for her innovative approach to journaling. Katie and her journals have been featured by media outlets such as The Wall Street Journal, Huffington Post, Good Housekeeping and Pregnancy and Newborn.
Katie's work helps both children and adults celebrate their life stories and nurture deeper bonds with their families while finding greater joy and gratitude. Find Katie and share her storycatching discoveries at www.katieclemons.com or @katierclemons on social media.