RHCSA & RHCE Red Hat Enterprise Linux 7: Training and Exam Preparation Guide (EX200 and EX300), Third Edition (Paperback)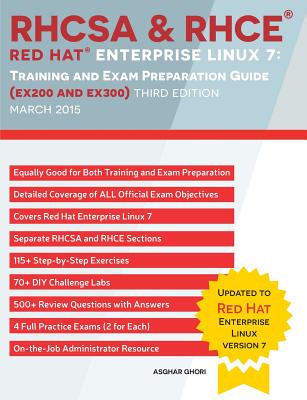 $60.00

Usually arrives at our store within 4-7 days
Description
---
RHCSA & RHCE Red Hat Enterprise Linux 7: Training and Exam Preparation Guide (EX200 and EX300), Third Edition.
Highlights:
> Updated to the latest version of Red Hat Enterprise Linux 7
> Upated to cover ALL official exam objectives for the RHCSA and RHCE exams based on Red Hat Enterprise Linux 7
> Equally good for self-study and in-class training
> Step-by-step exercises to accomplish tasks
> Do-It-Yourself challenge labs at the end of each chapter
> Concepts explained with diagrams
> Commands and options summarized in tables
> Exam tips included > FOUR scenario-based sample exams (TWO for RHCSA and TWO for RHCE)
> TWENTY-FIVE chapters (THIRTEEN for RHCSA and TWELVE for RHCE)
> Separate sections on RHCSA and RHCE
RHCSA Section (chapters 1 to 13): covers local and network (automated with kickstart) RHEL7 installations, general Linux concepts and basic tools, compression and archiving, text file editing, file manipulation and security, processes and task scheduling, bash shell features, software package administration, yum repository configuration, host virtualization, virtual machines, system boot, kernel management, system initialization and service management with systemd, local logging, users and groups, LVM and file systems, AutoFS, Swap, ACLs, firewall, SELinux, network interfaces, NTP/LDAP clients, SSH, and TCP Wrappers.
RHCE Section (chapters 14 to 25): covers shell scripting, interface bonding and teaming, IPv6 and routing configuration, NTP, firewalld, Kerberos authentication, kernel tuning, resource utilization reporting, network logging, block storage sharing with iSCSI, file sharing with NFS and Samba/CIFS, HTTP/HTTPS web servers and virtual hosting, Postfix mail SMTP, DNS, and MariaDB.
Each chapter lists major topics and relevant exam objectives in the beginning and ends with a summary followed by review questions/answers and Do-It-Yourself challenge labs.