Poisoned Eden: Cholera Epidemics, State-Building, and the Problem of Public Health in Tucumán, Argentina, 1865-1908 (Hardcover)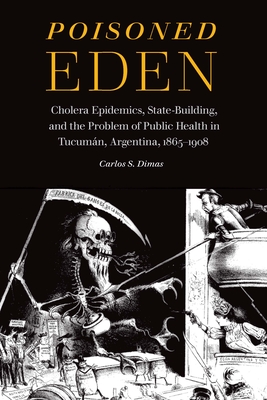 This item is not available.
Description
---
In 1895, after enduring two previous cholera epidemics and facing horrific hygienic conditions and the fear of another epidemic, officials in the Argentine province of Tucumán described their home as the "Poisoned Eden," a play on its official title, "Garden of the Republic." Cholera elicited fear and panic in the nineteenth century, and although the disease never had the demographic impact of tuberculosis, malaria, or influenza, cholera was a source of consternation that often illuminated dormant social problems.

In Poisoned Eden Carlos S. Dimas analyzes the social, political, and cultural effects of three epidemics, in 1868, 1886, and 1895, that shook the northwestern province of Tucumán to understand the role of public health in building the Argentine state in the late nineteenth century. Through a reading of medical and ethnographic material, Dimas shows that cholera became intertwined in all areas of the social fabric and that Tucumanos of all classes created public health services that expanded the state's presence in the interior. In each outbreak, provincial powers contended with how to ensure the province's autonomy while simultaneously meeting the needs of the state to eradicate cholera. Centering disease, Poisoned Eden demonstrates how public health and debates on cholera's contagion became a central concern of the nineteenth-century Latin American state and promoted national cohesion.
 
About the Author
---
Carlos S. Dimas is an assistant professor of history at the University of Nevada–Las Vegas.
 
Praise For…
---
"Historians and students alike have much to glean from this richly researched and engagingly written monograph. The fact that it has been published in our own 'COVID years' makes it an even more compelling read."—Kelly Urban, H-LatAm

"Poisoned Eden is recommended to researchers, students, and anyone interested in the history of medicine, the history of South America, and the history of cholera pandemics."—Gabriel Lopes, H-Sci-Med-Tech

"Convincing and carefully researched. . . . Dimas uses the history of epidemics in a province of the Argentine Interior as a way to examine social, cultural, and political dimensions of cholera as well as the changes and continuities in the process of state-making at the provincial and national levels. . . . Poisoned Eden is a valuable addition to the current Latin American historiography of health, disease, and medicine."—Diego Armus, author of The Ailing City: Health, Tuberculosis, and Culture in Buenos Aires, 1870–1950

"Dimas masterfully uses three cholera epidemics to examine state-building, medicalization, and contestation over disease origins and treatment in nineteenth-century Argentina. Poisoned Eden shows that epidemics are moments of crisis as well as opportunity, and the book illuminates how states govern during a medical crisis—providing especially useful insights in the age of COVID-19."—Nicole Pacino, associate professor of history at the University of Alabama–Huntsville

"The primary source and archival research for Poisoned Eden is outstanding. Carlos Dimas has put in a tremendous effort poring over newspapers in the Tucumán archives and bringing in other sources that add texture to the story of the politics of cholera epidemics. There is a lot of rich historical-geographical detail in the narrative."—Eric D. Carter, author of Enemy in the Blood: Malaria, Environment, and Development in Argentina