Clubbie: A Minor League Baseball Memoir (Hardcover)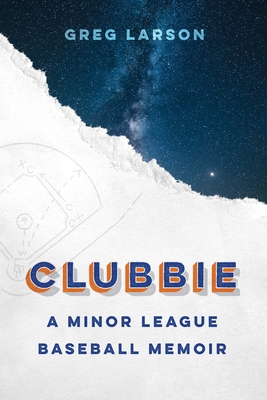 $27.95

Usually arrives at our store within 4-7 days
Description
---
Greg Larson was a starry-eyed fan when he hurtled headfirst into professional baseball. As the new clubhouse attendant for the Aberdeen IronBirds, a Minor League affiliate of the Baltimore Orioles, Larson assumed he'd entered a familiar world. He thought wrong.

He quickly discovered the bizarre rituals of life in the Minors: fights between players, teammates quitting in the middle of the games, doomed relationships, and a negligent parent organization. All the while, Larson, fresh out of college, harbored a secret wish. Despite the team's struggles and his own lack of baseball talent, he yearned to join the exclusive fraternity of professional ballplayers.
 
Instead, Larson fell deeper into his madcap venture as the scheming clubbie. He moved into the clubhouse equipment closet, his headquarters to swing deals involving memorabilia, booze, and loads of cash. By his second season, Larson had transformed into a deceptive, dip-spitting veteran, now fully part of a system that exploited players he considered friends.

Like most Minor Leaguers, the gravitational pull of baseball was still too strong for Larson—even if chasing his private dream might cost him his girlfriend, his future, and, ultimately, his love of the game. That is, until an unlikely shot at a championship gives Larson and the IronBirds one final swing at redemption.

Clubbie is a hilarious behind-the-scenes tale of two seasons in the mysterious world of Minor League Baseball. With cinematic detail and a colorful cast of characters, Larson spins an unforgettable true story for baseball fans and nonfans alike.

An unflinching look at the harsh experience of professional sports, Clubbie will be a touchstone in baseball literature for years to come.
About the Author
---
Greg Larson is an author, editor, and stand-up comedian. He spent two years as a clubhouse attendant for Cal Ripken Jr.'s Aberdeen IronBirds, the short-season single-A affiliate for the Baltimore Orioles.
Praise For…
---
"[A] well-written, realistic, and necessary addition to current baseball literature."—Library Journal

"Larson succeeds in bringing the reader right into the IronBirds' clubhouse."—Cycle

"Does what happens in the clubhouse stay in the clubhouse? No; Larson lets us into the Aberdeen Ironbirds' inner sanctum. Prepare to spend two full seasons with the Baltimore Orioles' minor-league affiliate owned by Cal Ripken. It is not Disneyland. Teammates brawl, players quit in mid-game, and one-upmanship rules. Clubbie Larson, also a stand-up comedian, offers a truly hilarious view of Double-A ball."—John Vorperian, SABR Newsletter

"Clubbie is bittersweet, but it throws a lot of strikes as far as capturing the malaise of minor league ball."—Jon Hart, Stadium Journey

"Greg Larson's Clubbie signals the arrival of an important new voice to American letters. . . . Clubbie is more than a coming-of-age story told via America's pastime: it is an elegiac requiem for all who fall short of the one million forms of the American Dream."—Joe Jackson, author of Black Elk: The Life of an American Visionary

"It's easy to romanticize baseball. But from the inside, in the trenches of the Minor Leagues, the game is not so pure. With an excellent eye for detail, Greg Larson captures every tobacco stain and dirty sock in this memoir of life as a clubhouse attendant. It's a well-written, heartfelt chronicle of growing up in a game that doesn't want to."—Brad Balukjian, author of the Los Angeles Times best seller The Wax Pack

"Imagine Holden Caulfield washing jock straps in the clubhouse of a Minor League baseball team. Then imagine Jim Bouton revealing the secrets of dreamers who struggle to make it to the Big Show. Enter Greg Larson with a voice and secrets all his own. This stunning debut memoir is about baseball and love, about the double edge of dreams. Larson is a natural."—Michael Pearson, author of the New York Times Notable Imagined Places: Journeys into Literary America