Lefty and Tim: How Steve Carlton and Tim McCarver Became Baseball's Best Battery (Hardcover)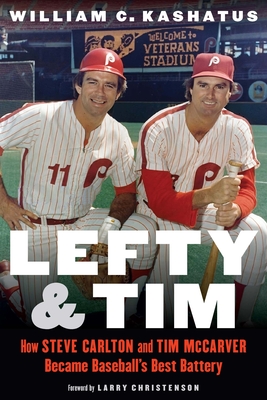 $34.95

Usually arrives at our store within 4-7 days
Description
---
Lefty and Tim is the dual biography of Hall of Fame pitcher Steve "Lefty" Carlton and catcher Tim McCarver, detailing their relationship from 1965, when they played with the St. Louis Cardinals, through 1980, when they played for the Philadelphia Phillies. Along the way McCarver became Carlton's personal catcher, and together they became the best battery in baseball in the mid-to-late 1970s.

At first glance Carlton and McCarver appear like an odd couple: McCarver was old school, Carlton new age. At the beginning of his career, McCarver believed that the catcher called the pitches, encouraged the pitcher when necessary, and schooled the pitcher when he deviated from the game plan. But Lefty, who pioneered the use of meditation and martial arts in baseball, was stubborn too. He wanted to control pitch selection. Over time, Carlton and McCarver developed a strong bond off the diamond that allowed them to understand and trust each other. In the process, Steve Carlton became one of the greatest left-handers in the history of Major League Baseball, an achievement that would not have been possible without Tim McCarver as his catcher. Not only did McCarver mentor Carlton as a young hurler with the Cardinals, but he helped resurrect Carlton's career when they were reunited in Philadelphia midseason in 1975. Carlton won his second Cy Young Award with McCarver behind the plate in 1977.

Told in the historical context of the time they played the game, Lefty and Tim recounts the pair's time in the tumultuous sixties, with the racial integration of the St. Louis Cardinals and the dominance of pitching, and in the turbulent seventies, characterized by MLB's labor tensions, the arrival of free agency, and the return of the lively ball that followed the lowering of the pitcher's mound in 1969.
 
About the Author
---
William C. Kashatus holds a PhD in history from the University of Pennsylvania. He is the author of more than twenty books, including Jackie and Campy: The Untold Story of Their Rocky Relationship and the Breaking of Baseball's Color Line (Nebraska, 2014). He has also published essays in a multitude of periodicals, including the Philadelphia Inquirer, American History Magazine, Baltimore Sun, Christian Science Monitor, New York Times, and the St. Louis Post-Dispatch. Kashatus has appeared on NPR and Pennsylvania Cable Network, as well as on many local television and radio stations.
 
Praise For…
---
"Steve Carlton needed Tim McCarver to reach for the stars. In all my years covering baseball, I've never seen a pitcher-catcher relationship quite like theirs. McCarver did more than merely help Carlton rediscover his slider and recapture his greatness. He found a place inside Carlton's circle of trust that reshaped both of their careers. Kashatus does a beautiful job of delving into what made their bond so special, on and off the field."—Jayson Stark, baseball writer for the Athletic and the Philadelphia Inquirer, 1979–2000, and 2019 J. G. Taylor Spink Award winner

"Bill Kashatus takes an inside look at a historic baseball brotherhood, revealing in riveting detail how Tim McCarver helped push a pitcher he claimed had an 'irascible contempt for being human' to superhuman heights no pitcher may ever reach again."—Tyler Kepner, author of K: A History of Baseball in Ten Pitches

"It was amazing to play behind Carlton and McCarver. Steve was a fast worker and Tim knew the hitters so well that the Phillies could count on winning every time they started a game. Lefty and Tim tells the story of that winning combination."—Mike Schmidt, Phillies Hall of Fame third baseman, 1972–89

"Steve Carlton was a special project for me when he came to the Phillies in 1972. He could be strong-willed and stubborn, and we had many battles. But he also became the best pitcher I ever coached. Lefty and Tim reveals how Carlton became a Hall of Famer. It is one of the best books I've ever read."—Ray Rippelmeyer, Phillies pitching coach, 1970–78