The Queen of Chess: How Judit Polgár Changed the Game (Hardcover)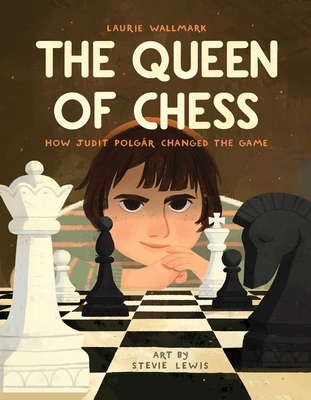 Description
---
This is the true story of how Judit Polgár captivated the world as she battled to become the youngest chess grandmaster in history!

"I was at both events where Judit got her first IM norm (I drew her in the last round) and her last GM norm, and I was fortunate enough to play her a few times in the late 80s and early 90s. Judit was already stronger than me when she was 12 years old. She was a great attacking player and great tactician. Simply said, Judit is one of the greatest players of all time. This book is beautifully written and illustrated and will delight children who already play chess and will intrigue those yet to learn the beautiful game." - GM Ben Finegold

"If there's one person that has inspired more girls to play chess, it is Judit Polgár, and thanks to these fantastic illustrations, many young chess players will get to see her fearlessness and determination in her formative years. Judit remains one of the most important people in scholastic chess and growth of the game, and getting her to see her as a girl and her most impressive moves is a winning combo for any aspiring young player." - FM Mike Klein, aka FunMasterMike of ChessKid.com

"Dispelling the notion that women are inferior chess players, this biographical picture book spotlights a triumphant child/heroine." -Booklist

"Polgár was a girl who loved swimming, cracking jokes, and spending time with her sisters, even as she was becoming a rising star in the chess world. The picture book style of the biography turns the story into something of a fairy tale." - The Bulletin of the Center for Children's Books

The queen of chess, Judit Polgár, dazzled the world as a prodigy, winning tournaments, gold medals, and defeating eleven world champions, including Garry Kasparov and Magnus Carlsen. At her peak, Judit was rated the eighth best chess player in the world.

But before these tremendous successes, Judit burst onto the chess scene as a ferocious, child competitor. Beating adults by five-years-old, and winning international tournaments by age nine, Judit was destined for greatness. Follow her incredible journey as she strives for chess immortality, hunting to become the youngest chess grandmaster in history.
About the Author
---
Laurie Wallmark is an award-winning author of picture book biographies of women in STEM (science, technology, engineering, and math) as well as fiction. Her books have earned multiple starred trade reviews, been chosen as Junior Library Guild Selections, and received awards such as Outstanding Science Trade Book, Best STEM Book, Crystal Kite Award, Cook Prize Honor, and Parents' Choice Gold Award. Laurie has an MFA in writing for children and young adults and was formerly a software engineer and computer science professor. She lives in NJ with her husband and has two grown daughters.

For half the year, Stevie Lewis travels out of her van, furthering her passion for art and the outdoors. She is also an avid hiker and rock climber. After working in animation, she now illustrates children's books including Prince & Knight by Daniel Haack. She currently lives in Northern Arizona with her partner and two dogs.
Praise For…
---
The charming, chalk-like digital illustrations show a girl with a passion and focus on her craft, displaying how ordinary her life was outside of the world of competitive chess playing. Polgár was a girl who loved swimming, cracking jokes, and spending time with her sisters, even as she was becoming a rising star in the chess world. The picture book style of the biography turns the story into something of a fairy tale.
— The Bulletin of the Center for Children's Books

From the intriguing jacket art onward, viewers will be drawn to the many moods expressed in Lewis' handsome, occasionally amusing illustrations. Wallmark, whose previous picture-book biographies include Ada Byron Lovelace and the Thinking Machine (2015) and Grace Hopper: Queen of Computer Code (2017), has a knack for making her subjects accessible to kids. Dispelling the notion that women are inferior chess players, this biographical picture book spotlights a triumphant child/heroine.
— Booklist