The Secret of the Dragon Gems (Hardcover)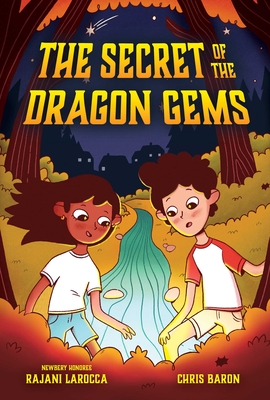 Description
---
Co-written by Newbery Honor-winning author Rajani LaRocca and Chris Baron, this page-turning novel is told through letters, e-mails, instant messages, and video chats between camp friends Tripti and Sam over their shared love of a book series and some mysterious rocks they brought home from summer camp.


Eleven-year-olds Tripti Kapoor, a feisty "word nerd" from Massachusetts, and Sam Cohen, a shy, imaginative, budding geologist from California, are both miserable at Camp Dilloway, a summer camp in upstate New York. On the last night of camp, they follow a shooting star to a quiet creek. There they find two silvery rocks glowing in the night. They each take one home, and their long-distance friendship begins.

It's soon clear that these are no ordinary rocks. They seem to move on their own, get strangely hot, and even take over Tripti and Sam's thoughts! Inspired by their mutual love of their favorite book series, The Dragon Gems, they dub the rocks Opal and Jasper, after the Dragon Gems in the books.

But others are interested in the stones too--including the owner of Camp Dilloway, who hides a secret of his own. Tripti and Sam must crack the Dragon Gems' code and keep them out of Dilloway's clutches, all while navigating the rocky road of middle school friendships and learning to stand up for what is right.
About the Author
---
Rajani LaRocca was born in India, raised in Kentucky, and now lives in the Boston area with her wonderful family and impossibly cute dog. She earned a BA and an MD from Harvard and spends her time writing novels and picture books, practicing medicine, and baking too many sweet treats. She is the author of Midsummer's Mayhem, Much Ado About Baseball, The Secret Code Inside You, Seven Golden Rings, and Red, White, and Whole, which was a Newbery Honor winner. Find her online at RajaniLaRocca.com, and on Twitter and Instagram @rajanilarocca.

Chris Baron is the award-winning author of The Gray, All of Me, an NCTE Notable Book, and The Magical Imperfect, a Sydney Taylor Book Award Notable Book, a SLJ Best Book of 2021. He is a professor of English at San Diego City College and the director of the Writing Center. He grew up in New York City, but he completed his MFA in poetry in 1998 at SDSU. He lives in San Diego, California, with his family. Find out more about him at chris-baron.com.
Praise For…
---
The absorbing adventure is cleverly told through a series of varying media forms. . . There are codes to be broken and puzzles aplenty, and the slowly revealed sci-fi elements add real suspense to the proceedings. A modern-day mystery brimming with deep familial bonds, cross-country connections, and lots of magic.
— Booklist

The pair's back-and-forth exchanges outline their investigation while also allowing them to share slice-of-life details about Sam's Jewish background and Tripti's Indian heritage, particularly through depictions of holiday traditions and food, making this a well-balanced and pleasant adventure.
— Publishers Weekly

The multiple channels of communication feel current and effectively propel the action, and the scientific information about comets and geology is engaging. . . . Tripti and Sam's friendship authentically traverses the tough and tender waters of middle school, and their friendship proves to be powerful. A strong, suspenseful read about navigating friendship that includes a touch of the extraterrestrial.
— Kirkus Reviews