The Ghost Photographer: A Hollywood Executive's True Story of Discovering the Real World of Make-Believe (Hardcover)
×
Warning message
Mean Menu style requires
jQuery
library version 1.7 or higher, but you have opted to provide your own library. Please ensure you have the proper version of jQuery included. (note: this is not an error)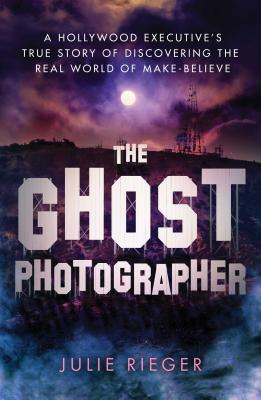 This item is not available.
Description
---
"A good primer on getting into the psychic realm, this is also, ultimately, a story of unconditional love and healing by a woman you might just want to have a drink with." —Booklist

This inspirational memoir, told with uncensored Southern wit and guidance, recounts the story of a Hollywood film executive who journeys through the cosmic wilderness and, against all odds, discovers psychic superpowers that radically transform her life.

As a senior executive at one of the world's largest movie studios, Julie Rieger spent her days marketing the imaginary stories of ghosts, faeries, superheroes, aliens, and more fantastical creatures. But after the devastating loss of her mother, the world of make-believe became reality when Julie captured her first ghost in a photograph and blew open a door to the Other Side.

The Ghost Photographer chronicles Julie's wild ride down the spiritual rabbit hole. After a series of unexpected, mind-blowing, and sometimes frightening encounters with the spirit realm, Julie was forced to face this strange awakening, flying in the face of scientific dogma and her own die-hard skepticism. Ultimately, she discovered that what she thought she had lost with the death of her mother—unconditional love—was in fact the greatest superpower one can wield.

In a refreshing departure from traditional supernatural tales, Julie tells her story with bold humor and total candor. Her journey juxtaposes her down-home roots in rural America with the glam of Hollywood and her professional universe of hard, empirical data. As she fine-tunes her psychic abilities and comes to terms with the transformative power of grief, Julie is empowered to fearlessly tell her story, teach others, and invite them to share their own experiences of the paranormal and unexplained. She offers insights into our relationship with the spirit world, prayers and rituals for cleansing and protecting our homes from unwanted ghosts, and guidance on how to develop our intuition and sixth sense.
About the Author
---
Julie Rieger is the award-winning President, Chief Data Strategist, and Head of Media at 20th Century Fox, responsible for marketing such notable films as Avatar, Deadpool, The Fault in Our Stars, and The Book Thief. An Oklahoma native, she now resides in Los Angeles, California with her wife, dogs, and a growing group of ghostly friends.
Praise For…
---
"I fell in love with Julie and her journey and you will, too. I know a real story when I feel it, and this is authentic and funny! For those of us who've had similar experiences, this book will make you smile all the way through. For those of us who haven't, welcome. Get ready to read a book that can change your life."
— Dannion Brinkley, International and New York Times bestselling author of Saved by the Light and Secrets of the Light

"Love love love it! The Ghost Photographer unfolds into a wondrous journey. The 'ah ha' moments are restorative and provide a spirited ride into an unknown world for some and a gentle reminder for others to continue down their paths. And, for those of you who want Julie to clear their homes—the front of the line starts with me!"
— John Schneider, actor (Dukes of Hazzard, Have and Have Nots), singer & storyteller

"The Ghost Photographer is a hugely entertaining must-read for anyone who's ever struggled with loss or wondered what might be beyond the veil of our five senses. Julie, fierce and funny, puts a whole new spin on the term "ghost-buster" in this fascinating journey to the Other Side. Told with incredible wit and down-home humor, Julie captured me from page one as her journey unfolded from skeptic to believer, from curious questioner to fearless adventurer."
— Anita Moorjani, author of Dying To Be Me

"A soulful and hilarious memoir about the mysteries of life that should be read far and wide. Julie's big heart combined with her fearlessness makes her the perfect modern day ghost whisperer. Move over Shirley MacLaine (with love) and make room for a new voice full of humor and insight into the supernatural wonders of our world."
— Cathy Byrd, author of The Boy Who Knew Too Much

"Most of us have had, or will have, an intense and traumatic life event, where everything we thought we knew about our lives and ourselves is called into question. As a psychologist, I can tell you that, contrary to any logic, these traumatic events can produce extraordinary personal growth—what we call post-traumatic growth—exactly because it's so disorienting. Julie's story is undoubtedly a journey to post-traumatic growth. What Julie reveals is how a regular person handled her personal trauma and by being open to some really new and, for the uninitiated, entertainingly bizarre encounters. So even if you think ghosts are figments of the imagination, you'll feel better after reading Julie's book because she'll make you laugh and even the skeptics among you will probably buy a little sage, just in case."
— Pamela Rutledge, PhD MBA, psychologist, social scientist, and author of Exploring Positive Psychology

"I love this book. Julie takes the 'para' out of paranormal. Her everyday life is stranger than fiction and she shares her remarkable journey into the spirit realm with sharp humor and a good dose of skepticism."
— Jason Blum, founder and CEO of Blumhouse Productions

"A good primer on getting into the psychic realm, this is also, ultimately, a story of unconditional love and healing by a woman you might just want to have a drink with."
— Booklist