Wildhood: The Astounding Connections between Human and Animal Adolescents (Paperback)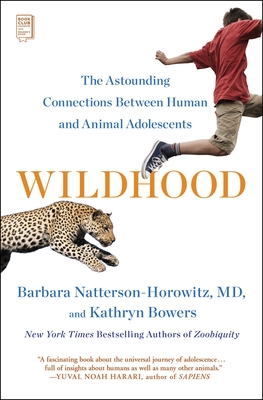 Description
---
A New York Times Editor's Pick ** People Best Books ** Publishers Weekly Most Anticipated Books ** Chicago Tribune 28 Books You Need to Read Now **

"It blew my mind to discover that adolescent animals and humans are so similar…I loved this book!" —Temple Grandin, author of Animals Make Us Human and Animals in Translation

A "vivid…and fascinating" (Los Angeles Times) investigation of human and animal adolescence from the New York Times bestselling authors of Zoobiquity.

Harvard evolutionary biologist Barbara Natterson-Horowitz and animal behaviorist Kathryn Bowers studied thousands of wild species searching for evidence of human-like adolescence in other animals. With a groundbreaking synthesis of animal behavior, human psychology, and evolutionary biology, their research uncovered something remarkable: the same four high-stakes tests shape the destiny of every adolescent on planet Earth—how to be safe, how to navigate social hierarchies, how to connect romantically, and how to live independently. Safety. Status. Sex. Self-reliance.

To bring these challenges to life, the authors analyzed GPS and radio collar data from four wild adolescent animals. Will a predator-naïve penguin become easy prey? Can a low-born hyena socialize his way to a better life? Did a young humpback choose the right mate? Will a newly independent grey wolf starve, or will he become self-reliant? The result is a game-changing perspective on anxiety, risky behavior, sexual first times, and leaving home that can help teenagers and young adults coming of age in a rapidly changing world.

As they discover that "adolescence isn't just for humans" through "rollicking tales of young animals navigating risk, social hierarchy, and sex with all the bravura (and dopiness) of our own teenage beasts" (People), readers will learn that in fact, this volatile and vulnerable phase of life creates the basis of adult confidence, success, and even happiness. This is an invaluable guide for parents, teenagers, and anyone who cares about adolescence, who will find "the similarities between animal and human teenagers uncanny, and the lessons they have to learn remarkably similar" (The New York Times Book Review).
About the Author
---
Barbara Natterson-Horowitz, MD, is a Visiting Professor at Harvard University in the Department of Human Evolutionary Biology. She is also Professor of Medicine/Cardiology at UCLA and President of the International Society of Evolution, Medicine, and Public Health. She is the coauthor of Zoobiquity and Wildhood.

Kathryn Bowers is an animal behaviorist and writer who has taught at UCLA and Harvard. A Future Tense Fellow at New America in Washington, DC, she was an editor at the Atlantic Monthly, CNN-International in London, and at Zócalo Public Square in Los Angeles. She is the coauthor of Zoobiquity and Wildhood.
Praise For…
---
"Adolescence collides spectacularly with the tree of life in Wildhood: The Epic Journey from Adolescence to Adulthood in Humans and Other Animals... [The book] obliterates the siren song of human exceptionalism... Reading this book is enlightening, both scientifically and personally."
—Carlo C. Maley, Evolution, Medicine & Public Health.

"Wildhood is a contemplation of how we are like, and unlike, other animals, using the widespread phenomenon of adolescence as an anchor... Readers will come away with an appreciation for a host of other qualities—friendship, social status, cooperation, leaving home and coming back—that are rooted in that one crucial stage of life."
—Marlene Zuk, The Wall Street Journal

"Natterson-Horowitz and Bowers go deep and wide in addressing the raft of species-spanning equivalents. The authors make clear that, in a fundamental sense, adolescent animals and teen humans encounter the same sorts of challenges — and that what may strike elders of any species as nutty, exasperating behavior is not only inevitable for most creatures in that stage of development but truly valuable."
—Duncan Strauss, Washington Post

"The vivid storytelling and fascinating scientific digressions in Wildhood make it a pleasurable read. It's also a book parents may find reassuring: The authors show that the often painful struggles human and animal adolescents go through are a way of developing the skills and experience that will make it possible for them to function as adults. But there's also another implicit message in Wildhood about the interconnection among the planet's species. The awareness that we're all in this together ought to motivate humans to stop ravaging the planet so it can continue to be a place where adolescents of many different species can find their ways into adulthood."
—Patrick J. Kiger, Los Angeles Times

"Adolescence may seem unique to the human experience, but Natterson-Horowitz and Bowers vividly reveal that many species navigate this crucial time between childhood and adulthood, which they so aptly call 'wildhood.'"
—Booklist, Top 10 Sci-Tech Books of the Year

"Adolescence isn't just for humans. Here an evolutionary biologist offers up rollicking tales of young animals navigating risk, social hierarchy, and sex with all the bravura (and dopiness) of our own teenage beasts."
—People

"All this time spent reading books on adulting can be harrowing for a worried parent who isn't entirely sold on the survival skills of her teenage son. I needed some reassurance.... Luckily, I found it with a king penguin, a hyena, a humpback whale and a wolf.... Barbara Natterson-Horowitz and Kathryn Bowers...follow this cast of characters as they face the trials of making it into adulthood in their savage and competitive worlds. You don't even need to anthropomorphize to find some of the similarities between animal and human teenagers uncanny, and the lessons they have to learn remarkably similar."
—Judith Newman, New York Times Book Review

"Harvard evolutionary biologist Barbara Natterson-Horowitz and science journalist Kathryn Bowers draw fascinating connections between human and animal young adulthood."
—Meredith Wolf Schizer, Newsweek

"Bestselling authors of Zoobiquity, Barbara Natterson-Horowitz and Kathryn Bowers, paired up again to research what we can learn about adolescent behavior from their counterparts in the animal kingdom… in their newest book, Wildhood. Their five-year study found many similarities between the thrill-seeking and sometimes inexplicable-seeming choices of teens and those of adolescent animals developing in the wild."
—Laura Pearson, The Chicago Tribune, 28 New Books You Need to Read Now

"An enduring story plot finds a youth suddenly alone in the world, struggling to find shelter from the elements, safety from predators, food, and new friends. These struggles usually involve some tough lessons but ultimately lead to knowledge, a new identity, self-reliance, and maybe even love. In Wildhood, this theme comes to exhilarating life as evolutionary biologist Barbara Natterson-Horowitz and science writer Kathryn Bowers describe the challenges faced by adolescent animals. There is much here for the nature lover, the parent seeking advice, and the college freshman tackling "adulting." By laying out the adolescent experience of so many species in rich detail, the authors normalize and celebrate the beauty and complexity of our own species' journey into the big wide world."
—Linda Welbrecht, Science Magazine

"Take the authors up on their invitation to observe animals in the wild and in your own household, and you'll never look at other beings the same again. "Wildhood" is for parents, nature lovers, and the curious alike. You'll be wild for it."
—Terri Schlichenmeyer, Times Record

"Reading [Wildhood], I was surprised to see that many of the adolescent behaviors humans exhibit are wired in for adolescents of most species. This may not provide much consolation for you as you try to guide your teen through the dangers of risk-taking, but it provides insights into how much your teen is exhibiting normal adolescent behavior shared with birds and monkeys. Most importantly, it's a reminder that this is usually not about you."
—Mark Phillips, Marin Independent Journal

"An incredibly fascinating read, Wildhood illuminates what humans can learn from the animal world and how all species are more connected to one another than they may appear."
—Booklist, starred review

"Human teens have much in common with their counterparts throughout the animal kingdom – and those commonalities are eye-opening as described in the latest from biologist Natterson-Horowitz and science journalist Bowers. Reassuring ... should appeal to anyone who's ever raised an adolescent, human or otherwise."
—Publishers Weekly, starred review

"A lucid, entertaining account of how creatures of many kinds learn to navigate the complex world that adulthood opens."
—Kirkus

"This compelling account of how strongly human adolescent behaviors are rooted in our wild animal past should intrigue general science readers and fans of Zoobiquity."
—Library Journal

"A fascinating and well-written book about the universal journey of adolescence. It is full of insights about humans as well as many other animals. There is much that human teenagers can learn from the experiences of adolescent penguins and hyenas."
—Yuval Harari, author of Sapiens

"It blew my mind to discover that teenage animals and teenage humans are so similar. Both are naive risk-takers. I loved this book!"
—Temple Grandin, author of Animals Make Us Human and Animals in Translation

"The wild adventure of adolescence has never been analyzed in such depth. In lively personalized accounts that keep our attention, the authors explain how the transition to independence works in each species, and why it looks so similar across the board."
—Frans de Waal, PhD, author of Mama's Last Hug and Our Inner Ape

"Our teenage years can be many things, from fraught and frustrating to exhilarating and joyful. In Wildhood, Natterson-Horowitz and Bowers show that these years are something else altogether—essential for humans and animals in general. Read their enlightening journey and you will never see the transition to adulthood the same way again."
—Neil Shubin, Ph.D., author of Your Inner Fish and The Universe Within

"One of the most insightful books ever written about this critically important stage of life. Unfailingly fascinating—and sometimes downright mind-blowing—this a remarkably original account of the nature, meaning, and purpose of adolescence in today's world."
—Laurence Steinberg, author of Age of Opportunity: Lessons From the New Science of Adolescence

"A masterpiece. This is a spellbinding lens on the ways creatures with big bodies yet little life experience figure out how to survive and thrive. Read Wildhood!"
—Wendy Mogel, author of Voice Lessons for Parents and The Blessing of a Skinned Knee

"A deeply researched and beautifully written description of the fundamental tasks of adolescence. The authors' account of the trials faced by teenagers across the animal kingdom inspires compassion for young people and a deep appreciation for what they must accomplish on the journey into adulthood."
—Lisa Damour, author of Untangled: Guiding Teenage Girls Through the Seven Transitions Into Adulthood

"The authors offer a life-changing perspective on adolescents venturing out into the world. A treasure trove of scientific exploration and practical implications for how we understand and support youth."
—Daniel J. Siegel, MD, author of Brainstorm: The Power and Purpose of the Teenage Brain

"This fascinating book tells the compelling story of adolescence across species, framed in the convincing context of evolutionary and adaptive explanations."
—Sarah-Jayne Blakemore, author of Inventing Ourselves: The Secret Life of the Teenage Brain

"Wildhood's tour of the natural history of adolescence is original, entertaining, and constructive. The transition from youth to adulthood might never be easy, but this comparative biology is full of ideas for understanding it better."
—Richard Wrangham, PhD, author of The Goodness Paradox and Catching Fire

"Those travails of adolescence? It isn't just you. Or your culture. Or even your species. Wildhood uses riveting stories about the challenges overcome by specific whales, wolves, and more to put the challenges of adolescence in a universal evolutionary context for the first time. Groundbreaking and fascinating."
—Randolph M. Nesse, MD, author of Good Reasons for Bad Feelings

"Wildhood links coming-of-age neurobiology with ecology and evolutionary biology to create a powerful new lens for understanding the science (and art) of growing up. At times counter-intuitive, at times paradigm-shattering, this illuminating new book generates dozens of hypotheses for raising, educating, counseling and treating, and living life as an adolescent human."
—Gene Beresin, MD, Professor of Psychiatry, Harvard Medical School