The Children of La Salette (Paperback)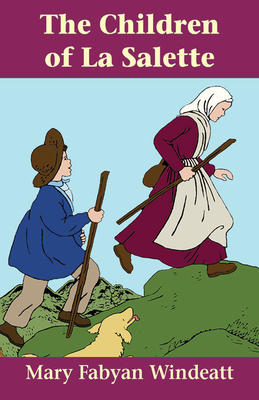 $16.95

Usually arrives at our store within 4-7 days
Description
---
Over 50 years before three shepherd children in Fatima saw a beautiful, mysterious Lady, two similarly innocent children beheld the same Lady heartbroken, crying with her face in her hands. Maximin and Melanie might not be as well-known as Lucia, Jacinta, or Francisco, but their message is no less powerful or relevant now.

This vividly detailed, engrossing account from Mary Fabyan Windeatt reveals the depth of Mary's pain over the sins of ungrateful men, as well as the perfect mother's love that drove her to appear in tears to these faith-filled children. Mary's message here, and the story of La Salette, will be familiar to anyone who knows the story of Fatima, reminding us that prayer, hope, and penance will always be the answer to the emptiness of sin and violence.

Maximin and Melanie quickly realize that their journey will not be easy, but instead of giving in to the constant, grating pressures of a harsh and unbelieving public, they win staggering amounts of people over through their virtue, their honesty, and especially their courage. With the law and even a local priest closing in on them from all sides, they refuse to dishonor Our Lady by revealing what she told them in confidence, remaining faithful to what they know is right in God's eyes.

In their encounter with the heartbroken Lady at La Salette, these two little children have much to teach us about what trust in God really looks like. By casting themselves into Christ's arms through His mother, they found peace in the midst of some truly unexpected stresses, confusions, and misunderstandings that surrounded their peaceful vision. As they won villager after villager to their side through faith and perseverance, they gave so many tired souls a sign of how much they are loved and sought-after by the Divine Lover--including all of us today.

Let this story of her humble appearance at La Salette encourage us in our own lives as we struggle with our crosses and look forward to the eternal hope of the Resurrection.
About the Author
---
Mary Fabyan Windeatt lived from 1910-1979 and grew up in Saskatchewan, Canada. The Mount Saint Vincent College awarded her a Licentiate of Music degree when she was just seventeen, and she began writing Catholic works when she was about twenty-four. Later she sent one of her stories to a Catholic magazine, and after it was accepted, she continued to write. In total she composed at least twenty-one children's books, as well as periodical children's books pages written for The Torch, a monthly Dominican magazine. Mary Windeatt is most renowned for her many novels of the saints, which she wrote specifically for children, including lives on the Children of Fatima, Cure of Ars, St. Thomas Aquinas, St. Rose of Lima and many others. After living with her mother in St. Meinrad, Indiana, she died on the twentieth of November, 1979.