Better Together: Making Church Mergers Work - Expanded and Updated (Paperback)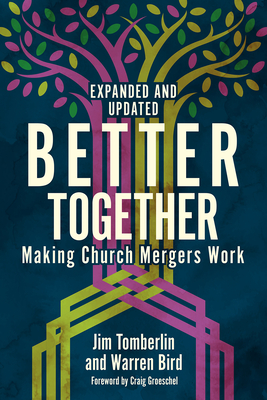 $19.99

Usually arrives at our store within 4-7 days
Description
---
Thousands of Protestant churches are perplexed by plateaued or declining attendance, while other congregations nearby thrive. Is there a way for them to combine forces, drawing on both their strengths, in ways that also increase their missional impact?
In Better Together, Expanded and Updated: Making Church Mergers Work, church merger consultant Jim Tomberlin and award-winning writer Warren Bird make the case that mergers today work best not with two struggling churches but with a vital, momentum-filled lead church partnering with a joining church. This much-needed resource describes the range of mergers for strong, stable, stuck, and struggling churches. No matter what type of merger a church may be considering, the authors address key questions about the process: How can a merger help a church go forward? How will a merger process unfold? Where can a declining church find another congregation to join? What are the pitfalls that both pastor and congregation should avoid? How can better together lead to more, rather than fewer, life-giving, high-impact, reproducing churches? They provide a complete, practical, hands-on guide for church leaders of both struggling and vibrant churches, so they can understand the issues, develop strategies, and execute mergers for church expansion and renewal--ultimately, so they can reinvigorate declining churches and give them a second life.
No matter what your motivation for merging your church with another--to begin a new church life cycle, cross racial lines, reach more people for Christ, multiply your church's impact, or better serve your local community--Better Together will give you the tools you need to create a thriving new entity.