The Everything Kids' Math Puzzles for Kindergarten: Learn about Counting, Measuring, Adding, and More with 100 Fun Puzzles! (Everything® Kids) (Paperback)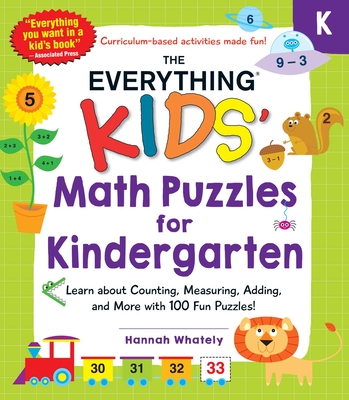 Description
---
Help your kids master challenging math concepts with these 100 fun and interactive puzzles and activities—whether they're learning at home or need extra practice outside of the classroom.

Learning is as easy as 1–2–3! In The Everything Math Puzzles for Kindergarten your child can have fun while learning challenging math concepts from counting and numbers to simple addition, subtraction, and measurements. Unlike workbooks that teach through repetition, this puzzle book provides a fun and exciting supplement for kindergarteners everywhere so they can have fun while learning.
About the Author
---
Hannah Whately is an elementary teacher and math education specialist. Having taken time away from classroom teaching to raise her two young children, Hannah began creating math resources, including printables, puzzles, and games. In 2019 she began her own website, MathKidsandChaos.com, which aims to support parents, homeschooling families, and teachers by providing fun and high-quality math resources and activities for children from preschool to grade four. Through her website, Hannah hopes to encourage and support parents to help their children learn math in a positive and enjoyable way. She lives with her family in Manitoba, Canada.