The Pack (Hardcover)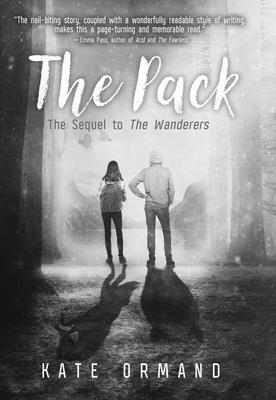 Description
---
Shifters are unknown to the human world, with the exception of a secret organization—the EOS, referred to as "hunters." Hunters capture and kill. Some shifters are taken to labs for testing—a place they will never leave—others are deemed useless, a danger to society, and are killed. Shifters travel in packs, constantly moving, and keep themselves hidden to avoid discovery.

Horse shifter Flo now travels in a wild pack with what remains of the shape-shifter circus she once performed in. She, bear shifter Jett, and the others seek a new home—somewhere they can feel safe and protected—and a fresh start. As they grow closer to this goal, someone who betrayed them in the past returns to ruin their best hope of finding a secure future.

With no memory of life before the circus, Flo, an orphan like the others, is unsure how to live in this new world. But then she's presented with news: one of her relatives is alive. The discovery comes at a cost, but Flo and her friends will do anything to rescue family, even if it means facing the hunters again.
About the Author
---
Kate Ormand is the author of Dark Days and shape-shifter circus books, The Wanderers and The Pack. The Wanderers was honored as winner in the young adult fiction category of the 2015 USA Best Book Awards. Kate graduated from university with a first class degree in fine art painting. During this course, Kate discovered her love of reading young adult books, prompting her to try a new creative angle and experiment with writing. She also writes children's picture books under the name Kate Louise. She lives in Chesire in the United Kingdom.
Praise For…
---
"Just like The Wanderers, I found The Pack to be a real roller-coaster ride, tautly plotted and with a denouement that took my breath away. The settings were atmospheric and vivid; I loved meeting new characters as well as seeing some familiar faces, and I thought the Laughing Girls in particular were brilliantly depicted—they sent chills down my spine! The nail-biting story, coupled with Kate's wonderfully readable style of writing, makes The Pack a page-turning and memorable read. I can't wait to add it to my bookshelf and I wish it all the success it so richly deserves." —Emma Pass, author of Acid and The Fearless

"Balancing basic survival needs and security with belonging and relationships are clear themes in this action-packed fantasy. Flo's first-person narrative is compelling, drawing the reader into her world, as well as revealing her emotions and thoughts. . . . Readers will find this new and exciting tale hard to put down." —VOYA

Praise for The Wanderers

"Flo and her friends are but poor, lost circus performers—who shape-shift into animals and try to evade governmental capture. Newly turned 16, orphaned shifter Flo is dreading her first circus performance. Alas for her, it's not optional; all of the shifter children who live with the circus must perform regularly as soon as they reach that age. Flo must take a turn like all the others, so after a false start, she takes the stage—not as a girl but as a magnificent mare. Like her boyfriend, Jett the bear, or her nemesis, Pru the tiger, Flo becomes an animal at will. In a modern world of cars and DVD players, the circus shifters live almost medievally, bound under the unkind leadership of the elders, three middle-aged lion shifters. Flo knows that if she leaves, she'll be vulnerable to hunters, government-funded paramilitary forces that are the modern legacy of sworn enemies who have been murdering shifters since time immemorial. So she tolerates the cruelty of her peers, learns to jump through a flaming hoop, and almost has hope for the future when disaster strikes. In a spare first-person, present-tense narration, Flo takes readers through a swoony romance with a massive body count. Despite the potential whimsy of a circus adventure narrated by a shape-shifting mare, this more closely resembles a brutal, angst-drenched dystopia à la Veronica Roth's Divergent (2011) than anything else. (Fantasy. 13-15)" —Kirkus Reviews

"The preternatural circus of shifters, budding young romance, and action-packed struggle against evil will appeal to readers of paranormal fiction." —School Library Journal

"The world of shape-shifting characters has just gotten wider with the addition of this novel . . . Fans of supernatural series like Shiver will enjoy this book, with its similar themes and strong love story." —VOYA Magazine

"Filled with excitement and whimsy, The Wanderers is an adventure story about shape-shifters, first love, and the endless search for a true home." —Suzanne Young, New York Times–bestselling author of The Program

"The Wanderers is a dark, rich, and original story. I love the concept of humans with inherent shape-shifting abilities, and the circus setting is incredibly vivid—I could smell the musty, musky ring, feel the bright lights burning my skin. Kate has created an intricate and danger filled world that's both cruel and beautiful." —Melinda Salisbury, author of The Sin Eater's Daughter

"An utterly captivating big-top world filled with shape-shifters and dark secrets. I devoured this book! It was unlike anything I've ever read." —Amy Christine Parker, author of Gated and Astray

"A fresh tale about shape-shifters that is sure to delight and astound." —Danielle L. Jensen, author of Stolen Songbird

"Just like The Wanderers, I found The Pack to be a real roller-coaster ride, tautly plotted and with a denouement that took my breath away. The settings were atmospheric and vivid; I loved meeting new characters as well as seeing some familiar faces, and I thought the Laughing Girls in particular were brilliantly depicted—they sent chills down my spine! The nail-biting story, coupled with Kate's wonderfully readable style of writing, makes The Pack a page-turning and memorable read. I can't wait to add it to my bookshelf and I wish it all the success it so richly deserves." —Emma Pass, author of Acid and The Fearless

"Balancing basic survival needs and security with belonging and relationships are clear themes in this action-packed fantasy. Flo's first-person narrative is compelling, drawing the reader into her world, as well as revealing her emotions and thoughts. . . . Readers will find this new and exciting tale hard to put down." —VOYA

Praise for The Wanderers

"Flo and her friends are but poor, lost circus performers—who shape-shift into animals and try to evade governmental capture. Newly turned 16, orphaned shifter Flo is dreading her first circus performance. Alas for her, it's not optional; all of the shifter children who live with the circus must perform regularly as soon as they reach that age. Flo must take a turn like all the others, so after a false start, she takes the stage—not as a girl but as a magnificent mare. Like her boyfriend, Jett the bear, or her nemesis, Pru the tiger, Flo becomes an animal at will. In a modern world of cars and DVD players, the circus shifters live almost medievally, bound under the unkind leadership of the elders, three middle-aged lion shifters. Flo knows that if she leaves, she'll be vulnerable to hunters, government-funded paramilitary forces that are the modern legacy of sworn enemies who have been murdering shifters since time immemorial. So she tolerates the cruelty of her peers, learns to jump through a flaming hoop, and almost has hope for the future when disaster strikes. In a spare first-person, present-tense narration, Flo takes readers through a swoony romance with a massive body count. Despite the potential whimsy of a circus adventure narrated by a shape-shifting mare, this more closely resembles a brutal, angst-drenched dystopia à la Veronica Roth's Divergent (2011) than anything else. (Fantasy. 13-15)" —Kirkus Reviews

"The preternatural circus of shifters, budding young romance, and action-packed struggle against evil will appeal to readers of paranormal fiction." —School Library Journal

"The world of shape-shifting characters has just gotten wider with the addition of this novel . . . Fans of supernatural series like Shiver will enjoy this book, with its similar themes and strong love story." —VOYA Magazine

"Filled with excitement and whimsy, The Wanderers is an adventure story about shape-shifters, first love, and the endless search for a true home." —Suzanne Young, New York Times–bestselling author of The Program

"The Wanderers is a dark, rich, and original story. I love the concept of humans with inherent shape-shifting abilities, and the circus setting is incredibly vivid—I could smell the musty, musky ring, feel the bright lights burning my skin. Kate has created an intricate and danger filled world that's both cruel and beautiful." —Melinda Salisbury, author of The Sin Eater's Daughter

"An utterly captivating big-top world filled with shape-shifters and dark secrets. I devoured this book! It was unlike anything I've ever read." —Amy Christine Parker, author of Gated and Astray

"A fresh tale about shape-shifters that is sure to delight and astound." —Danielle L. Jensen, author of Stolen Songbird