An Unofficial Encyclopedia of Strategy for Fortniters: Battle Royale for Noobs (Encyclopedias for Fortniters) (Hardcover)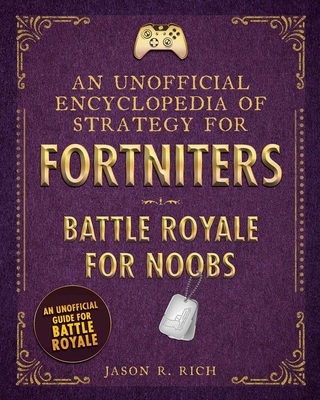 Description
---
An All-Encompassing Introductory Guide to Fortnite!
Get started playing the most popular game out there!
An Unofficial Encyclopedia of Strategy for Fortniters: Battle Royale for Noobs
will introduce you to all aspects of
Fortnite Battle Royale
using a comprehensive "A to Z" format that's extremely easy-to-understand and that includes hundreds of full-color screenshots. Every core element of the game will be explained in detail, while also providing you with tips and strategies that'll help you achieve success and stay alive longer during matches.
Whether you're playing
Fortnite Battle Royale
on a PC, Mac, Playstation 4, Xbox One, Nintendo Switch, Apple iPhone, Apple iPad, or Android-based mobile device, this double-length, full-color, unofficial strategy guide will provide you or "noobs" you know with all of the information you need to get started playing this incredibly popular game.
Learn game-play modes and how they differ, plus discover how to customize and control your soldier throughout each match. Explore the island, combat, building, and survival techniques, and discover the many different types of terrain and challenges you'll experience in the game.
With this guide, you'll:  
Learn the basics of the most compelling video game out there
Arm yourself with the best strategies and knowledge of weapons, resources, and loot items
Know how to achieve success, stay alive during matches, and climb the ranks
About the Author
---
Jason R. Rich (www.JasonRich.com) is an avid gamer and the author of more than two dozen full-length computer and video game strategy guides. He's also contributed thousands of game reviews and articles to national magazines and websites, and has worked as a consultant to some of the world's biggest computer and video game developers and publishers. Follow him on Twitter/Instagram (@JasonRich7).
Praise For…
---
"2018's first real gaming phenomenon. It's kind of extraordinary to watch. . . . It's not hard to see why gamers everywhere (and of all ages) are more than a little obsessed with it."
?Forbes

"An international obsession."
?Washington Post

"Addictive gameplay and visceral excitement."
?The New York Times

"A gaming sensation."
?Rolling Stone

"Quickly exploded, conquering the Battle Royale genre . . . Nothing quite sums up 2018 on the internet quite like Fortnite. It's highly addictive."
?Newsweek

"The biggest game on the internet."
?CNBC

"A worldwide phenomenon.Fortnite clips and highlights have inundated Instagram, Reddit, and Twitter at an alarmingly high rate, helping it permeate mainstream culture."
?The Verge

"Everyone is playing it."
?Chicago Tribune

"The biggest game in the world . . . The top of teenagers' most wanted games list."
?Guardian

"Fortnite continues to dominate the Battle Royale genre."
?IGN

"The video game taking over the world."
?Quartz

"Already racked up a staggering 40 million players since it debuted in the fall, with 10 million joining in the first two weeks."
?New York Post

"The game's rise thanks to its Battle Royale mode is exceptional."
?Game Informer

"Fortnite Battle Royale is on top of the world. Not only is Epic's battle royale game the most-watched game on Twitch, but it displaced 2017's big ticket game PlayerUnknown's Battlegrounds, a game that spent the better part of last year dominating the video game industry."
?USgamer

"No signs of the game slowing down."
?Metro

"For a new game mode to be so rapidly developed while differing so much from the game's original vision, and to overshadow the original mode to this degree, is unprecedented."
?PC Gamer