The Native Mexican Kitchen: A Journey into Cuisine, Culture, and Mezcal (Hardcover)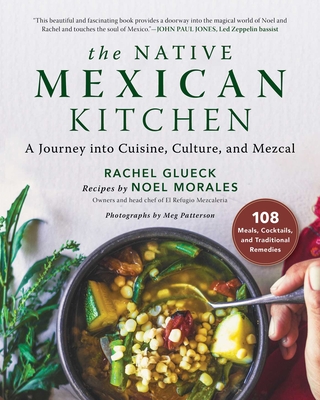 Description
---
WINNER of the 2020 US Gourmand Award for Food Heritage!

A Deep Dive into the Complex and Vibrant Native Culture that is the Bedrock of Mexican Cuisine, with Over One Hundred Recipes, Including Moles, Pozoles, Chiles en Nogada, and More
 
Mexican cuisine is ubiquitous in the American dining scene, yet it remains far removed from its roots. The Native Mexican Kitchen is an homage to the indigenous peoples and their culinary and cultural traditions that create Mexican cuisine, elevating it beyond Americanized tacos and tequila.

With recipes by Mexican chef Noel Morales—born of Aztec and Omec blood, grandson to a mezcalero, and raised by native dancers—The Native Mexican Kitchen offers its readers the ability to recreate the flavors of centuries-old dishes in a modern kitchen. Morales shares well-known plates such as birria and barbacoa, and beloved market foods like tlayudas and tacos al pastor, as well as a few of his own vegetarian and seafood creations. Signature mezcal cocktails and decadent desserts adorn these pages, while the Medicinales section includes teas, tinctures, and baths of traditionally used herbs for a variety of ailments, such as colds, muscle tension, and infertility.
 
Author Rachel Glueck provides rare access and insight into a Mexico that few foreigners or nationals see today, leading you through indigenous festivals with masked dancers, bountiful market places, and sacred pilgrimage sites. Unwrap the philosophies and customs of Mexico's native communities and discover the depth of this magical country and how you can welcome it into your own kitchen.
Personal stories of mezcaleros, traditional cooks, and native healers are accentuated by 130 stunning photographs and are woven through with mouth-watering recipes. With pages bursting with color, culture, and wisdom, you'll discover a Mexico you never knew existed.
About the Author
---
Rachel Glueck, together with her husband, Noel Morales, runs the cult-favorite restaurant and mezcal bar, El Refugio Mezcaleria, in Todos Santos, Mexico. Her enthusiasm for writing about the culture behind cuisine and its greater significance was sparked when she created the food blog for Nopa, one of San Francisco's most treasured restaurants. She has since written for Mezcalistas, Whetstone, and World Nomads. Her time among native dancers, traditional cooks, and mezcaleros has given her rare insight into native Mexican world views and further cultivated her passion for sharing the wisdom of oft-overlooked peoples of theworld. She lives in Todos Santos, Mexico.

Noel Morales is a native Mexican chef, Aztec dancer, and grandson of a mezcalero, raised by traditional cooks in Guerrero. He has spent his life immersed in his indigenous culture, learning the regional cuisine, native dances, art, and cosmology of his people. Having traveled the country extensively and participated in a multitude of indigenous ceremonies, he has gleaned precious insight into the cuisine, histories, and cultural nuances of Mexico. An avid storyteller, Noel brings his indigenous knowledge and insights to guests at his restaurant, El Refugio Mezcaleria. He lives in Todos Santos, Mexico.
Praise For…
---
"Music and food are both created from the heart. This beautiful and fascinating book provides a doorway into the magical world of Noel and Rachel and touches the soul of Mexico. I have always loved the music and the food, and Noel's cooking never fails to enrich my Mexican experience." —John Paul Jones, Led Zeppelin bassist 

"This is so much more than your traditional Mexican cookbook. It showcases the hospitality, the vibrancy, and the stories of Mexican people. Food and its traditions are the heart of Mexican culture, and Rachel Glueck and Noel Morales celebrate these in a way that made me nostalgic for my home country. Felicidades!!" —Gonzalo Gonzales Guzman, coauthor of Nopalito and chef-partner of Nopalito

"The Native Mexican Kitchen is an earnest, beautiful, and accessible account of regional Mexican cooking and culture. Woven in between the recipes are enjoyable forays into the markets, festivals, churches, and innumerable cultural cornerstones of Mexico that all lead back to the table. It is an inspired and delightful read." —Stephen Satterfield, cofounder, Whetstone Magazine
 
"Who knew that pre-hispanic cuisine was so suited to the aspirations of the contemporary diet? Wait, all those native peoples of the Americas had to eat healthy, that's why. Add mezcal, the stories of how all the pieces fit together in a cultural context, and you get this book, which will enlighten your culinary ambitions along with your understanding of the centrality of Mexico to our lives. It includes all the basics (make your own masa!) to the more exotic (ant salsa) and places in-between, while providing the critical cultural context of how the recipes fit into local traditions." —Maz Garrone, cofounder, Mezcalistas
 
 "I'm a sucker for a good love song, and that's what The Native Mexican Kitchen is: Rachel Glueck's love song to her country-in-law. She followed her husband back to his native home and the result is this enchanting love ballad. The recipes are the chorus, celebrating the first kiss; the stories of the people and places are the verses, welcoming you into hearts and homes, in the same way those very real rural Mexican communities will do when you show up unannounced on their doorstep. Read Rachel's The Native Mexican Kitchen, then make your plans to visit our sister to the south, so you can write your own love song. "
—Lou Bank, Founder, SACRED: Saving Agave for Culture, Recreation, Education, and Development