Publishers Weekly Book Publishing Almanac 2022: A Master Class in the Art of Bringing Books to Readers (Paperback)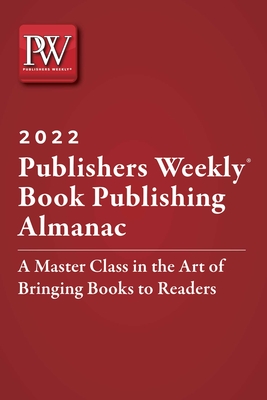 Description
---
Announcing the first edition of Publishers Weekly Book Publishing Almanac 2022. Designed to help authors, editors, agents, publicists, and anyone else working in book publishing understand the changing landscape of book publishing, it is an essential reference for anyone who works in the industry.
Written by industry veterans and co-published with
Publishers Weekly
magazine, here is the first-ever book to offer a comprehensive view of how modern book publishing works. It offers history and context, as well as up-to-the-minute information for anyone interested in working in the field and for authors looking to succeed with a publisher or by self-publishing. You'll find here information on:  
Finding an agent
Self-publishing
Amazon
Barnes & Noble and other book chains
Independent bookstores
Special sales (non-traditional book markets)
Distribution
Foreign markets
Publicity, Marketing, Advertising
Subsidiary rights
Book production
E-books and audiobooks
Diversity, equity, and inclusion across the industry
And more!
Whether you're a seasoned publishing professional, just starting out in the business, or simply interested in how book publishing works, the 
Publishers Weekly Book Publishing Almanac
 will be an annual go-to reference guide and an essential, authoritative resource that will make that knowledge accessible to a broad audience.  
Featuring original essays from and interviews with some of the industry's most insightful and innovative voices along with highlights of 
PW
's news coverage over the last year, the 
Publishers Weekly Book Publishing Almanac
 is an indispensable guide for publishers, editors, agents, publicists, authors and anyone who wants better to understand this business, its history, and its mysteries.
About the Author
---
Publishers Weekly, familiarly known in the book world as PW and "the bible of the book business," is a weekly news magazine focused on the international book publishing business. It is targeted at publishers, booksellers, librarians, literary agents, authors and the media. It offers feature articles and news on all aspects of the book business, bestsellers lists in a number of categories, and industry statistics, but its best known service is pre-publication book reviews, publishing some 9,000 per year.
Praise For…
---
"Everything you ever needed to know about publishing is contained in the Publishers Weekly Book Publishing Almanac 2022. Looking to get published? The answer is here. Need some history of the industry? You got it. Curious about the difference between American and European publishing? It's here. What will the future look like? Look into PW's crystal ball. Want to work in publishing? Start here. Everything is covered, from marketing to subsidiary rights (Hollywood calling) to the remainders bin. A great primer on how the publishing industry really works."—Dermot McEvoy, former PW Senior Editor and author of The 13th Apostle and Real Irish New York
 
"Those of us who love books benefit from understanding the industry that publishes them—and this almanac is the key resource."—Gavin de Becker, bestselling author of The Gift of Fear
 
"Anyone interested in the universe of publishing needs to read the Publishers Weekly Book Publishing Almanac 2022. Whether you're a writer, an editor, a publisher, a bookseller or someone who simply loves books, the almanac needs to be right there on your desk so that you see where publishing is today and where it is going tomorrow."—Louis Conte, author

"What a delicious cornucopia of fascinating insights into the publishing world! I cannot imagine any publisher, agent, or writer who would not devour the feast."—Nick Lyons, author, editor, and publisher 

"This is an incredible inside look at the world of book publishing. As an aspiring writer, I can't imagine a more important book."—Eva Churchill, MA, LCSW 

"An indispensable resource for the layman, the industry veteran, and everyone in between. The Publishers Weekly Book Publishing Almanac 2022 offers readers a comprehensive overview of the publishing field with intimate glimpses into the workings of each arm in the publishing process—from editorial, marketing, publicity, warehouse distribution, and so much more. It also serves as an invaluable roadmap for aspiring authors on the path toward publication. This is a guide I wish I had upon first entering the wonderful world of books."—Nick Magliato, Senior Editor, Penguin Random House

"If you want to know the current state of the publishing world, where we are, how we got here, and where we are going, make this the first book you read in 2022."—Bill Rusin, publishing consultant and former Director of Sales, W.W. Norton

"I have been working with authors and publishers in publicity and marketing for over 30 years. The Publishers Weekly Book Publishing Almanac 2022 is an invaluable, comprehensive resource for those who are just getting into the business as well as veterans like me. It's up to date with information from the best and brightest in the world of publishing who are working in trenches every day. If you are in publishing YOU NEED THIS BOOK!"—Meryl Moss, President, Meryl Moss Media Group
 
"This remarkable almanac is an indispensable resource for writers and anyone seeking connection to the publishing world.  Written by a diversity of voices, literally everything you'd want to know from marketing and manufacturing to manuscript submissions."—Dick Russell, New York Times bestselling author of The Life and Ideas of James Hillman
 
"Kudos to Skyhorse for dreaming up the idea for this very useful new almanac that covers the book publishing waterfront thoroughly and interestingly. I wish I had thought of it first!"—Jed Lyons, President and CEO, The Rowman & Littlefield Publishing Group
 
"This virtual 'who's who' of publishing examines every facet of the industry to provide a clear concise roadmap of where it has been and where it's going. Everyone—from writers to agents, editors to marketers, coordinators to CEOs—will learn something from this expansive overview."—Mary McAveney, Chief Revenue Officer and Chief Marketing Officer, Open Road Integrated Media

"I've been in publishing for over 40 years, but the Publishers Weekly Book Publishing Almanac 2022 taught me things I never knew. It is important to understand not only the current state of the business but how we got here. The almanac offers invaluable perspectives on both."—Karla Olson, publisher, Patagonia, and Chair of The Independent Book Publishers Association

"Anyone who is interested in learning about the incredible field of book publishing should read this book—it's a comprehensive master class on the subject."—Kevin Anderson, Editor-in-Chief, Kevin Anderson & Associates