Wake, Sleepy One: California Poppies and the Super Bloom (Hardcover)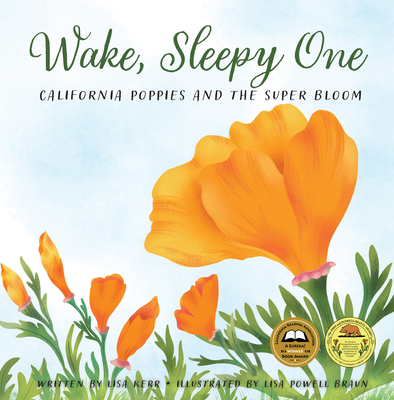 Description
---
Written in lyrical prose with beautifully detailed illustrations, Wake, Sleepy One follows the California poppy's incredible journey, from seed, to flower, to the rare super bloom.
One of Children Book Council's Hot off the Press picks for April 2022
"Gorgeous illustrations, that fill the page, show the desert habitat where the California Poppy blooms in the spring--if the conditions are right. ...] An ode to a beautiful plant. This book could be wonderfully shared in a Botany class or used in a science unit for younger children. It seems like a must-have for schools and libraries in California. 5 Stars."
--Youth Services Book Review
"A lyrical, elegant, and eloquent tribute to one of California's most treasured wildflowers, Wake, Sleepy One: California Poppies and the Super Bloom is a treasured picture book story by author Lisa Kerr and artist/illustrator Lisa Powell Braun that beautifully and elegantly captures the quiet strength of the poppy in all its breathtaking and deftly illustrated wonder."
--Midwest Book Review
"Lisa Powell Braun's charming artwork supports Kerr's spare text and offers a variety of reading options for this book. . . Two full spreads of stellar backmatter add to its usability in the classroom, and make this a perfect resource for learning about desert landscapes "
--Goodreads with Ronna
"Packed with interesting information conveyed through whimsical writing. . . For young nature enthusiasts or browsers, Wake, Sleepy One] is ideal narrative nonfiction."
--School Library Journal
"The use of onomatopoeia and personification liven up the description of the flower's life. . . At the back of the book, readers will find a glossary, labeled diagram of the flower parts, additional information related to the poppy, locations to find poppies, and some resources."
--Children's Literature Comprehensive Database
Follow the golden poppy's journey as it slowly wakes inside its seed, stretches its roots, and unfolds its delicate petals. Watch as it transforms the land into an ocean of orange--the amazing "super bloom."
A lyrical ode to California's most treasured wildflower, Wake, Sleepy One gently captures the quiet strength of the poppy in all its breathtaking wonder.