There are no products in your shopping cart.
Please call 626-449-5320 to check the availability of this item.
Saving Talk Therapy: How Health Insurers, Big Pharma, and Slanted Science Are Ruining Good Mental Health Care (MP3 CD)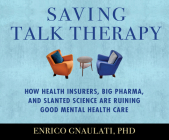 $24.99
Usually Ships in 1-5 Days
Description
---
In recent decades there has been a decline in the quality and availability of psychotherapy in America that has gone largely unnoticed-even though rates of anxiety, depression, and suicide are on the rise. In Saving Talk Therapy, veteran psychologist Dr. Enrico Gnaulati presents evocative case studies from his practice to remind patients and therapists alike how and why traditional talk therapy works and, using cutting-edge research findings, unpacks the problematic incentives in our health-care system and in academic psychology that explain its decline.