There are no products in your shopping cart.
Watchdog (Paperback)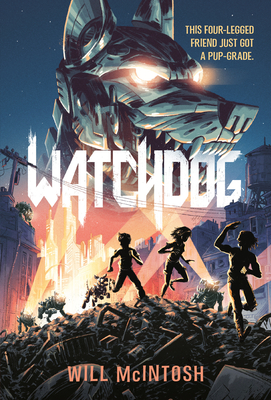 Description
---
Thirteen-year-old twins Vick and Tara have built an incredible machine—a loyal robotic watchdog named Daisy. But, when local crime boss Ms. Alba schemes to add Daisy to her robot army, Vick and Tara must go to great lengths to protect their prized pet. Because Daisy is more than just any robot—she's their constant protector, and together the three make a great team.

Vick and Tara are determined to stop the mob from tearing their little family apart. And they might just succeed! Sure, the evil Ms. Alba has more robot watchdogs, but none are as smart—or as faithful—as their Daisy. Plus, if things get too dangerous, Tara could always upgrade their pet. With her mechanical skills, she could make Daisy bigger, stronger, and a lot more intimidating!

A Junior Library Guild Selection
A 2019-2020 Texas Bluebonnet Award Master List Selection

"Engaging, suspenseful, and with nearly all the vivid fighting confined to robots, this gritty tale is perfect for a younger audience than most post-apocalyptic stories." —Kirkus Reviews

"This compelling drama with cool tech themes and bad guys getting their comeuppance is a winner." —SLJ
About the Author
---
Will McIntosh is the author of several adult novels; many short stories; one young adult novel, Burning Midnight; and one middle-grade novel. He won the Hugo Award for Best Short Story and was a finalist for the Locus Award, and his novel Love Minus Eighty was an ALA-RUSA Reading List Selection for Science Fiction. Watchdog is his first novel for middle-grade readers. Will lives with his wife and twin children in Williamsburg, Virginia. Check out willmcintosh.net and follow him on Twitter at @WillMcIntoshSF to learn about his other sci-fi adventures.
Praise For…
---
PRAISE FOR WATCHDOG

A Junior Library Guild Selection

"The grim setting is vividly depicted, and the clever-kid-against-mean-adult trope is both plausible and very satisfying. The fast-paced narrative readily conveys the looming sense of ever present danger. Engaging, suspenseful, and with nearly all the vivid fighting confined to robots, this gritty tale is perfect for a younger audience than most post-apocalyptic stories."—Kirkus Reviews

"Middle graders will enjoy the robot elements as well as the fast-paced action as the twins evade violence and mete out some of their own...This compelling drama with cool tech themes and bad guys getting their comeuppance is a winner; hand to fans of Michael Buckley's "NERDS" and Stuart Gibbs's "Spy School" series —SLJ

"This fast-paced sci-fi adventure with an unsettling dystopian atmosphere should find easy appeal among a wide range of readers." —Booklist


PRAISE FOR WILL MCINTOSH'S BURNING MIDNIGHT
"I fell for the insane suspense and the well-crafted and diverse characters, but mostly the wholly original plot, which spoke to my family of obsessive 'collectors' of Pokémon and Magic the Gathering. And the insane ending! The ending felt like first-class Michael Crichton, or the original Maze Runner, where you don't know how crazy unreal things are until the very end. It's got the bones of classic sci-fi—it's got legs. . . . Burning Midnight is for (1) adrenaline junkies and gamers, (2) obsessive collectors, and (3) people wo can't get enough of crazy endings. I'm all of these things, and I loved it." —Margaret Stohl, author of Marvel's Black Widow: Forever Red and coauthor of the internationally bestselling Beautiful Creatures series
 
"In an impressive YA debut, adult SF author McIntosh spins an action-packed adventure. . . . An engaging cast and thought-provoking premise help fuel this thriller." —Publishers Weekly
 
"A quick read with likable characters, the story is well paced with a quirky view of the future. A great addition to YA sci-fi shelves." —SLJ
 
"[With] a film-ready action climax . . . this fast-paced urban quest wears its agenda on its sleeve, but it's conveyed with verve and an endearing sense of justice." —Kirkus Reviews

"With an inventive premise, this sci-fi adventure offers a scavenger hunt story with layers both political and emotional. The detailed backstory and underlying logic are clearly conveyed without dragging down the pace, and the plot manages to twist and surprise. . . . Ultimately a winning story of friendship in the face of easy money and power, this novel has much to offer the reader who's up for something new." —The Bulletin