Love (Hardcover)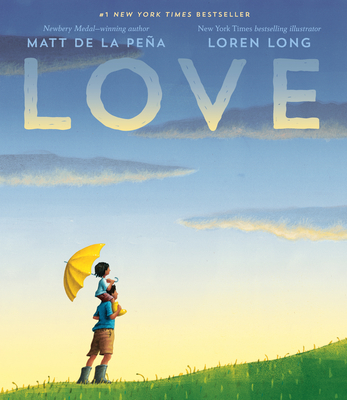 Description
---
#1 NEW YORK TIMES BESTSELLER

"[A] poetic reckoning of the importance of love in a child's life . . . eloquent and moving."—People

"Everything that can be called love -- from shared joy to comfort in the darkness -- is gathered in the pages of this reassuring, refreshingly honest picture book."—The New York Times Book Review, Editors' Choice / Staff Picks From the Book Review

"Lyrical and sensitive, 'Love' is the sort of book likely to leave readers of all ages a little tremulous, and brimming with feeling."—The Wall Street Journal

From Newbery Medal-winning author Matt de la Peña and bestselling illustrator Loren Long comes a story about the strongest bond there is and the diverse and powerful ways it connects us all.

"In the beginning there is light
and two wide-eyed figures standing near the foot of your bed
and the sound of their voices is love.
...
A cab driver plays love softly on his radio
while you bounce in back with the bumps of the city
and everything smells new, and it smells like life."

In this heartfelt celebration of love, Newbery Medal-winning author Matt de la Peña and bestselling illustrator Loren Long depict the many ways we experience this universal bond, which carries us from the day we are born throughout the years of our childhood and beyond. With a lyrical text that's soothing and inspiring, this tender tale is a needed comfort and a new classic that will resonate with readers of every age.
About the Author
---
Matt de la Peña is the author of Last Stop on Market Street, which won the Newbery Medal and was chosen for a Caldecott Honor. He is also the author the award-winning picture book A Nation's Hope: The Story of Boxing Legend Joe Louis and six critically acclaimed young adult novels. Matt teaches creative writing and visits schools and colleges throughout the country. Matt lives in Brooklyn, NY. You can visit Matt at mattdelapena.com or on Twitter @mattdelapena


Loren Long is the author and illustrator of the New York Times bestselling Otis series. He's also the illustrator of the #1 New York Times bestseller Of Thee I Sing by Barack Obama, as well as the re-illustrated, #1 New York Times bestseller The Little Engine That Could by Watty Piper. He lives near Cincinnati with his wife, two sons, and two Weimaraners. Visit him online at LorenLong.com or on Twitter @lorenlong.
Praise For…
---
Praise for Love:
#1 New York Times Bestseller
#1 Indie Bestseller
A Winter 2017-2018 Kids' Indie Next Top Pick
Five Starred Reviews
An Amazon Best of the Year Pick 2018 – Ages 3-5
A Time Magazine Best Children's Book of 2018
An NPR Best Book of 2018


"Accompanied by Loren Long's charming illustrations, this book, also available in Spanish, celebrates how love exists in the ordinary and why we should treasure moments, big and small, with the people in our lives."—Time Magazine

"[A] poetic reckoning of the importance of love in a child's life . . . eloquent and moving."—People Magazine

"Everything that can be called love — from shared joy to comfort in the darkness — is gathered in the pages of this reassuring, refreshingly honest picture book."—The New York Times Book Review, Editors' Choice / Staff Picks From the Book Review

"Lyrical and sensitive, 'Love' is the sort of book likely to leave readers of all ages a little tremulous, and brimming with feeling."—The Wall Street Journal

★ "De la Peña's prose poem speaks right to young children. . . . People often talk to children about love; in these pages, they can see and feel what it's like. And there's plenty for everybody."—Publishers Weekly, starred review

"This book looks into the darkness and still finds stars twinkling overhead."—The New York Times Book Review  

★ "From the moment prose and art appear in the opening spread, de la Peña and Long usher readers into a patient, pensive meditation on love. . . . Timely, timeless, and utterly necessary."—Kirkus Reviews, starred review

"Newbery Award–winning De la Peña offers a lyrical ode to love in this stirring picture book. . . . In De la Peña's lines, love becomes not just an emotion between people but a feeling suffusing the world."—Booklist 

★ "Long and Matt de la Peña . . . hit the mark with Love . . . a gentle, poetic picture book about love in all circumstances, even the tough ones."—Shelf Awareness

★ "This heartfelt and sensitively rendered picture book meditation begs to be shared and discussed with children . . . Spread the love."—School Library Journal, starred review

★ "An exquisitely written and illustrated picture book that speaks of how love, even when it's difficult to recognize, can percolate up through the most common of daily circumstances."—The Horn Book, starred review

"Love – it's an abstract emotion, right? Not even close. These pictures and words describe a zillion ways to think of love . . . For readers, this book is a lifelong challenge to ask: What is love? And how can we create more of it in what we think and do and say?"—Justine Kenin, producer, All Things Considered, in NPR's Book Concierge Guide to 2018's Great Reads