Gunslinging justice: The American culture of gun violence in Westerns and the law (Hardcover)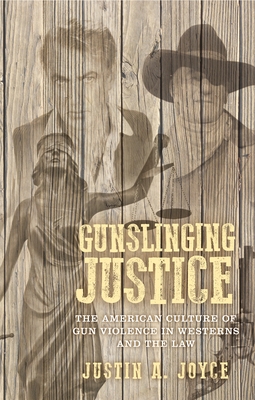 $130.00

Usually arrives at our store within 4-7 days
Description
---
Gunslinging justice presents a new take on an old genre, reading Westerns alongside the historical development of the American legal system. Scholars have interpreted the Western as either an expression of masculine anxieties over economic and social transformations, or a fantasy of swift, extralegal violence at odds with the procedural complications of American law. This book argues instead that, when examined alongside changes in justifiable homicide laws and gun rights jurisprudence in the United States, Westerns are less 'anti-law' than they appear.

While the genre's climactic shootouts may look like a masculine opposition to the codified American legal system, this gun violence is actually enshrined in the development of laws regulating self-defense and gun possession. The violence of a seminal Western text like Owen Wister's 1902 novel, The Virginian, or the classic 1952 film High Noon, seeks not to oppose 'the law, ' but to expand its scope.

Why this ritualistic, atavistic formula still works after more than a century is simple: revenge and justice are deeply satisfying fantasies, and the genre's gun fetish reifies core national tenets like individual liberty, economic opportunity, and self-reliance. How the Western genre endures, undergoing changes in style and iconography that enable it resonate anew, is a more complicated question. It is the topic of this book.
About the Author
---
Justin A. Joyce is Research Director for President McBride at The New School and Managing Editor of the James Baldwin Review