We Could Be Heroes (Paperback)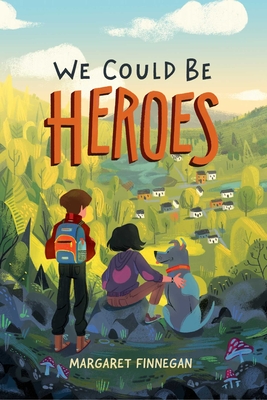 Description
---
"A coming-of-age story of friendships young, old, and canine." —Kirkus Reviews
"[A] good-natured tale of two unlikely friends determined to save a life." —Publishers Weekly

Shiloh meets Raymie Nightingale in this funny and heartwarming debut novel about a ten-year-old that finds himself in a whole mess of trouble when his new friend Maisie recruits him to save the dog next door.

Hank Hudson is in a bit of trouble. After an incident involving the boy's bathroom and a terribly sad book his teacher is forcing them to read, Hank is left with a week's suspension and a slightly charred hardcover—and, it turns out, the attention of new girl Maisie Huang.

Maisie has been on the lookout for a kid with the meatballs to help her with a very important mission: Saving her neighbor's dog, Booler. Booler has seizures, and his owner, Mr. Jorgensen, keeps him tied to a tree all day and night because of them. It's enough to make Hank even sadder than that book does—he has autism, and he knows what it's like to be treated poorly because of something that makes you different.

But different is not less. And Hank is willing to get into even more trouble to prove it. Soon he and Maisie are lying, brown-nosing, baking, and cow milking all in the name of saving Booler—but not everything is as it seems. Booler might not be the only one who needs saving. And being a hero can look a lot like being a friend.
About the Author
---
Margaret Finnegan is the author of the Junior Library Guild Selections New Kids and Underdogs, We Could Be Heroes, and Susie B. Won't Back Down. Her other work has appeared in FamilyFun, the Los Angeles Times, Salon, and other publications. She lives in South Pasadena, California, where she enjoys spending time with her family, walking her dog, and baking really good chocolate cakes. Visit her online at MargaretFinnegan.com.