Santiago's Road Home (Hardcover)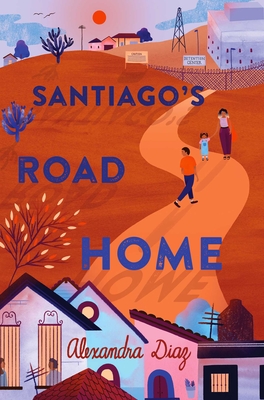 $17.99

Usually arrives at our store within 4-7 days
Description
---
Three starred reviews!
"Harrowing but deeply illuminating." —School Library Journal

A young boy gets detained by ICE while crossing the border from Mexico to the United States in this timely and unflinching novel by award-winning author Alexandra Diaz.

The bed creaks under Santiago's shivering body. They say a person's life flashes by before dying. But it's not his whole life. Just the events that led to this. The important ones, and the ones Santiago would rather forget.

The coins in Santiago's hand are meant for the bus fare back to his abusive abuela's house. Except he refuses to return; he won't be missed. His future is uncertain until he meets the kind, maternal María Dolores and her young daughter, Alegría, who help Santiago decide what comes next: He will accompany them to el otro lado, the United States of America. They embark with little, just backpacks with water and a bit of food. To travel together will require trust from all parties, and Santiago is used to going it alone. None of the three travelers realizes that the journey through Mexico to the border is just the beginning of their story.
About the Author
---
Alexandra Diaz is the author of The Only Road, The Crossroads, Santiago's Road Home, and Farewell Cuba, Mi Isla. The Only Road was a Pura Belpré Honor Book and won the Américas Award for Children's and Young Adult Literature, as well as numerous other accolades. Santiago's Road Home was an International Latino Book Award gold medalist and an ALA Notable Children's Book. Alexandra is the daughter of Cuban refugees and lives in Santa Fe, New Mexico, but got her master's in writing for young people at Bath Spa University in England. A native Spanish speaker, Alexandra now teaches creative writing to adults and teens. Visit her at Alexandra-Diaz.com.
Praise For…
---
"Everyone is separated." Return to la malvada, or try his luck on his own? For 12-year-old Santiago, going back to his abusive abuela leaves him with no choice at all. At a loss as to his next move, he finds an opportunity when he meets a young mother named María Dolores and her small daughter, Alegría, on their way to el otro lado. For María Dolores, a new life on the other side means fleeing from a troubled past, and Santiago heads with them to El Norte. After a brief stop in a town full of treacherous coyotes and los pollos at their mercy, the three Mexican refugees cross the border and embark on an arduous trek over a barren mountain range, with the desert heat slowly chipping away at their lives. Close to death, the trio falls into the clutches of U.S. immigration officers. Separated from his newfound family, Santi must now navigate life at a youth immigration detention center. It's here that Santiago's story delves into an uncomfortable and bleak modern reality: one where children are held captive at underfunded, psychologically scarring detention centers. With unflinching conviction, Diaz sketches a frank, brief account of refugee youth in an uncaring bureaucratic system, where hope comes in glimpses and family separation becomes the norm. The author's cleareyed, compassionate writing serves as a much-needed wake-up call to readers. . . . An urgent mirror for troubling times. (author's note, resources, further reading, glossary) (Fiction. 8-12)
— Kirkus Reviews, *STARRED REVIEW*

This incisive portrayal of an unaccompanied minor's trials will inspire both empathy and righteous anger in young readers. Santiago has been shuffled from relative to relative ever since his mom died when he was five. After his abusive aunt kicks him out, the 14-year-old decides to cross the border, from Mexico into the U.S., in hopes of finding a new life. He meets and bonds with a kind, single mom and her adorable little girl, with whom he joins on the harrowing journey, but when they get separated at the border, he wonders if he will ever be reunited with his newfound family. This is a heartrending tale of survival against the odds—including murderous coyotes, inhumane living conditions at detention centers, and traitorous guards. Diaz follows her Pura Belpré–winning The Only Road (2016) and its sequel with an equally sympathetic narrator searching for family and home. With every chapter, readers will be further immersed in Santiago's story as they root for his triumph over injustice. The characters here are fully realized, and this narrative is one that brings home the reality of what is happening at our borders. Pair with David Bowles' They Call Me Gu¨ero for units exploring the southern U.S. border. A musthave for all middle-grade collections.
— Booklist, STARRED Review

DIAZ, Alexandra. Santiago's Road Home. 336p. S. & S./Paula Wiseman Bks. May 2020. Tr $17.99. ISBN 9781534446236.

Gr 5-7–Fleeing his abusive family, 12-year-old Santiago joins a young mother, María Dolores, and her daughter, Alegría, in an attempt to cross the border from Mexico into the United States. The three are near death from exhaustion and dehydration when border agents find and separate them. Santiago spends months in a youth detention facility where he is treated as a "criminal" and given no information about the mother and daughter, whom he has come to think of as his sisters. The prose is straightforward, presenting stark realities with no adornment. Covered with scars from abuse and often starving, Santiago approaches death's door twice, and a teen at the detention center does die. The text includes many italicized Spanish words and phrases, and it acknowledges varying accents and vocabularies among Latin American countries. Back matter includes an afterword, a glossary, and lists of online resources and related books. Santiago is a sympathetic character, and readers get a vivid sense of his experiences and world view, which includes a distrust of police and most adults, as well as a great capacity for caretaking. The book ends with a happy reunion with María Dolores and Alegría, but their asylum cases are pending. They still don't know if they will be allowed to stay in the U.S., and they will always live with the trauma of being separated. VERDICT Vivid details and a sympathetic protagonist make this a harrowing but deeply illuminating portrayal of the struggles faced by families at the U.S.-Mexico border.–Lisa Goldstein, Brooklyn Public Library
— School Library Journal

Diaz, Alexandra

Santiago's Road Home

2020. 336pp. $17.99. hc. Paula Wiseman Books (Simon & Schuster). 9781534446236. Grades 6-8

Alexandra Diaz, recipient of a Pura Belpré Honor, writer and daughter of Cuban refugees, has produced a Dickensian tale of children who become "Dreamers" in search of a new life in the United States. Twelve-year-old Santiago doesn't trust the future. After his mom's death, Santiago is bounced from his abusive grandmother to the home of his aunt and uncle, who are also looking after his cousins. When Santiago capitalizes on an opportunity to run away, he is lucky enough to meet teen mother Maria Dolores and her toddler on his way, and ultimately decides he wants to cross the border with them to the United States. After a harrowing trip with a local "coyote," the trio are left to fend for themselves in the dessert with limited supplies and water. After suffering dehydration and heat exhaustion, they are separated at an immigration holding center. Readers partake in Santiago's painful prison-like experience in a holding center where genders and family members are separated. Diaz makes powerful statements about the corruption and nightmarish realities surrounding the holding centers, including the fact that people are not always returned to their countries, and are frequently returned in worse condition than before they left. Text includes a glossary of Spanish words, a further reading list of picture, middle, YA, and adult books, with nonfiction and web resources, and an author's note about holding centers. Book lovers will appreciate how Santiago flourishes while learning to read and help out during juvenile story-time. While there are more and more books being published about Dreamers, there are not many out there which expose the deplorable conditions of the displaced persons centers, a part of the story all Americans need to learn. Laura Dooley-Taylor, School Library Media Specialist, Cumberland Elementary School, Des Plaines, Illinois

Highly Recommended
— School Library Connection

Following 12-year-old Santiago, Diaz (The Only Road) gives voice to a young refugee who overcomes tremendous obstacles to cross the border from Mexico into the United States, only to be trapped in a detention center. Forced from his aunt's home, Santiago scrounges for food rather than return to his abusive grandmother. When a woman and her young daughter offer him sustenance and kindness, he asks to accompany them across the border. Sensing that he is trustworthy, they agree. While the book's first half depicts the numerous dangers they survive together, leading up to a harrowing journey across the desert, the second half shares Santiago's disconcerting experiences after being forcibly separated from his companions; crowded into a stark, chilly room with teenage boys; and monitored by unsympathetic guards. While kind staff offer comfort, months of bleak daily existence and an uncertain future undermine Santiago's natural resilience. Basing Santiago's story on well-documented experiences, Diaz's crucial narrative shines a disconcerting light on the plight of children in U.S. detention centers along the southern border. Ages 8–12. Agent: Sarah Davies, Greenhouse Literary. (May)
— Publishers Weekly *STARRED*

For twelve-year-old Santiago, the future is a dangerous concept. Years of enduring physical abuse and emotional neglect at the hands of la malvada (his grandmother) and tía following the sudden death of his mother have taught Santiago not to hope for better prospects. Yet Santiago's self-efficacy and resolve to survive ignite his courage to create a better life. Striking out on his own from Chihuahua, Mexico, Santiago meets María Dolores, a young mother who, along with her daughter Alegría, is on the way to el otro lado, the United States. Seizing the moment, Santiago decides to go, too. Diaz's third-person narration specifies the life-and-death stakes involved in their journey north—from the cramped, dusty bus ride through Mexico, to the border town where Santiago negotiates the clandestine passage that ultimately strands them in the Sonoran Desert, to their eventual capture by la migra, who threaten to sever their forged kinship. Diaz achieves what statistics about childhood refugees often don't, as the second half of the book illustrates the casual cruelties (metallic blankets, shoddy toothbrushes) and state-sanctioned violence of family separation. Personified through Santiago, the direct connections between immigrant detention and a country that treats imprisonment as an industry become undeniable. An author's note, resources, further reading, and a glossary are appended.
— The Horn Book Magazine