Sylvie (Hardcover)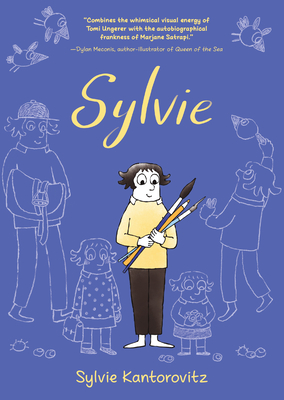 Description
---
In a wise and witty graphic memoir, a young artist finds her path apart from the expectations of those around her.

Sylvie lives in a school in France. Her father is the principal, and her home is an apartment at the end of a hallway of classrooms. As a young child, Sylvie and her brother explore this most unusual kingdom, full of small mysteries and quirky surprises. But in middle and high school, life grows more complicated. Sylvie becomes aware of her parents' conflicts, the complexities of shifting friendships, and what it means to be the only Jewish family in town. She also begins to sense that her perceived "success" relies on the pursuit of math and science—even though she loves art. In a funny and perceptive graphic memoir, author-illustrator Sylvie Kantorovitz traces her first steps as an artist and teacher. The text captures her poignant questioning and her blossoming confidence, while the droll illustrations depict her making art as both a means of solace and self-expression. An affecting portrait of a unique childhood, Sylvie connects the ordinary moments of growing up to a life rich in hope and purpose.
About the Author
---
Sylvie Kantorovitz was born in Casablanca and grew up in France. She is the author-illustrator of many picture books. This is her first graphic novel. She lives in New York's Hudson Valley with her partner, author-illustrator Barbara Lehman.
Praise For…
---
Kantorovitz tells the story of how her family emigrated from Morocco to France. . .The cartoonish art style is enchanting, and Kantorovitz makes effective use of color and panel layout to convey mood...Readers, particularly those who grapple with challenging parental relationships or escape into art, will find that this witty memoir speaks to their own experiences.
—School Library Journal

In charmingly illustrated panels, readers are invited into the small triumphs and sorrows of cartoonist Kantorovitz's youth. . .the overall tone of this story is comforting, warm, calm, and deeply satisfying. Quietly appealing for young readers with a taste for realism.
—Kirkus Reviews

In this graphic memoir, Sylvie shares her experience growing up on the grounds of a small French teacher's college where her father served as principal, and quietly blazing her path toward a career in art. . .The graphic format and the years-long span of Sylvie's narrative coverage invite a broad range of readers—those looking back from the border of independence, and those looking forward to life of their own making.
—Bulletin of the Center for Children's Books

This tightly composed illustrated memoir spans Kantorovitz's childhood from the late 1960s through the 1970s...Like a photo album, chapters distill ordinary events, glossing over them without erasing troubles... Introspective, this chronicle traces a winding path, concluding with optimism and promise
—Publishers Weekly

Author-illustrator Kantorovitz's graphic memoir is an engaging and thoughtful story of an observant child who grows into a young adult eager to pursue teaching and art. . .The book's design is open and friendly...Even at a hefty 350-plus pages, the book looks so approachable that it will likely attract a wide range of readers who will discover a strong story about navigating family, school, and friendships while finding one's purpose.
—The Horn Book

The portrait that the modern child encounters in this illustrated autobiography is enviable, really, even if in the author's life, as in every life, a little rain does fall. . .Children of gentle and artistic temperament will find a kindred spirit in Sylvie Kantorovitz and perhaps take encouragement for their own moments of travail and independence.
—The Wall Street Journal